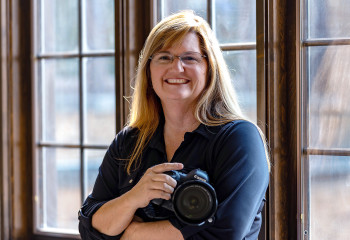 Sandra J. Milburn is a photojournalist who worked full-time at The Hutchinson News for 32 years, starting there right out of college, advancing to photo editor, and recently writing stories to accompany her photos. 
Milburn arrived as a summer intern at The News in 1988 while attending the University of Kansas William Allen White School of Journalism. She graduated the following year in May 1989. She was hired to replace photojournalist Greg Peters in September 1989. 
She was promoted to photo editor in 1995. Her largest photo staff included herself and three full-time photojournalists/videographers. She also managed a full-time internship program where college students were paid to work at The News for six months at a time. 
She became the only photojournalist on staff at The News starting in April 2019, and in August 2022 was laid off by Gannett as part of a round of nationwide cuts. 
Many of the interns that came through The News went on to photojournalism careers, with one becoming the Director of Innovation at the Donald W. Reynolds Journalism Institute at the Missouri School of Journalism and an assistant professor, one who won College Photographer of the Year, and one who is currently a photo editor at The Denver Post. 
Milburn also had high school and college students shadow her through the years and was part of a program at The News, where high school students published their own page or two of stories in the newspaper, assisting them with ideas on photos and how to frame them.  
Milburn has won many other photography awards through the years, in the Harris Group, Kansas Press Association and Associated Press contests. 
Recent awards were taking second in the "Photographer of the Year" division and first in "News Photography" in the 2022 Kansas Press Association competition. 
Two career highlights were earning 2007 AP Photo of the year for her aerial photo of the damage caused by an EF-5 tornado that struck the town of Greensburg, Kansas, and having a photo displayed over two pages in Life magazine when a tornado struck the town of Willowbrook, northwest of Hutchinson, in 1991. 
Photojournalism was a calling and a passion she loved at The News for more than three decades. Her thoughts about photography began as a seven-year-old girl when she told her mother she wanted to be a photographer, who responded "well, they don't make a lot of money."  
But she held on to that desire. In high school, she went to a friend's family portrait session and the photographer wanted to be in the photo, so he asked Milburn to take  it. He said she had a knack for waiting for just the right moment to take the photo and she would be a natural at photography.  
Milburn went to Colby Community College for an equine degree but took a class in photography as an elective and became enamored with it and the darkroom. Many memories from college, KU and The News include cranking the radio and working in the darkroom's red lights, watching the magic of the black and white image appear in the developing tray.  
Milburn loved working for a small newspaper, making a difference for the readers by photographing their children at school events, providing sports images that they cut out, or being on the spot at a wildfire or after a tornado to help record history.  
She relished being called the "photo lady" by school children who remember seeing her take their photos.
She said it felt like a family reunion every time she went to the NJCAA Men's D1 basketball tournament, the Kansas State Fair, and even a July 4th parade because people would reach out and give her hugs and chat with her.  
Milburn also liked receiving emails or handwritten "thank you" notes expressing people's appreciation for a photo or a story, and she loved that she was able to share the stories of the people of Kansas from light-hearted to devastating events in people's lives. 
Milburn and her husband, Bruce, have been married for 26 years and they have two children. Jacob, 22, and his wife, Grace, both graduated in May 2022 from Kansas State University, in engineering and social work, respectively. Their daughter Mikayla, 17, is a junior at Buhler High School. 
The family has been very involved in the Buhler 4-H Club and was honored to be awarded the 4-H Family of the Year in 2018. They also are very involved in church activities at Trinity United Methodist Church in Hutchinson.  
---