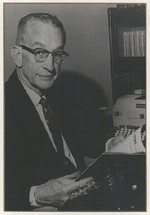 Angelo Scott was associated with the Iola Register all his life, working with his father Charles on the paper until the elder Scott's death in 1938. He served as editor and publisher from that time until 1966, when he sold the Register to his nephew Emerson Lynn, Jr.
In 1958, Scott became the fifth Kansas newspaperman to receive the William Allen White Foundation Award for Journalistic Merit.
He was president of the Kansas Editorial Association in 1931, president of the Kansas State Historical Society in 1954, Chairman of the Allen County War Price and Rationing Board during World War II, and a member of the State Joint Merit System Council from 1944 to 1948.
Scott was also chairman of the Alcoholic Beverage Control Board of Review from 1949 to 1957.
---