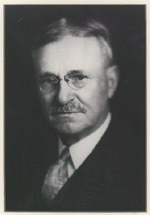 Charles F. Scott was born Sept. 7, 1860, in Carlyle, and grew up working on the family farm. At age 22, just a year after graduating from the University of Kansas, he became publisher of the weekly Iola Register.
With the exception of 10 years spent in Washington, D.C., as a member of Congress, he devoted his entire adult life to Iola and to The Register.
Scott's father gave him ten dollars upon his graduation from KU, and, Scott recalled, "That was the cash capital with which I began life. I never had a dollar thereafter that I didn"t earn."
He boarded a train headed west and spent the next 18 months working various jobs in Colorado, New Mexico, and Arizona.
Upon returning home, Scott used his earnings to purchase a fourth interest in the Register, and within three years had bought out his other partners. He remained in charge of its publication until his death in September of 1938.
A great believer in the importance of travel as a means of education, he spent the summer of 1891 in Europe and wrote weekly letters back to The Register.
---