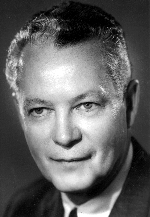 Richard M. Seaton was born Jan. 25, 1913 in Washington, D.C. The family moved to Manhattan when his father, Fay Seaton, purchased the Manhattan Mercury in 1915. After graduating from Kansas State University, Richard joined the Mercury staff and eventually became business manager.
In 1947, he moved to Coffeyville when the Seaton family purchased the Coffeyville Journal and KGGF Radio. He handled the day-to-day operations of the Journal until 1978 when the newspaper was sold to Gannet Newspapers. That same year, Richard and his wife, Mary, endowed the R.M. Seaton Professional Journalism Chair at Kansas State University. Richard also helped lead fundraising efforts for the Marianna Kistler Beach Museum of Art, which opened on the KSU campus in 1996. His contributions led to the creation of the museum's Mary Holton Seaton gallery. In 1975, Richard led the drive for a James A. McCain scholarship, as well as a Mary Holton Seaton scholarship, Fay N. Seaton Memorial Scholarship and the Fay Seaton Journalism Scholarship.
Richard Seaton was active in the American Society of Newspaper Editors and was president of Kansas Press Association in 1949.
His children include: Edward L. Seaton, publisher of the Manhattan Mercury; F. David Seaton, publisher of the Winfield Daily Courier; Richard H. Seaton; and Elizabeth Seaton Hall.
---