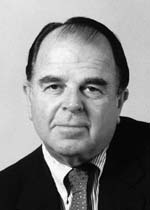 Dolph C. Simons Jr. is editor of the Lawrence Journal-World and chairman of The World Company, which owns and operates the Journal-World, Sunflower Broadband and weekly newspapers in Tonganoxie, Basehor, Bonner Springs, Shawnee, De Soto, Eudora, Lansing and Baldwin City.
Among newspaper organizations, Mr. Simons was a director of the Associated Press from 1967-1976; president of the Kansas Associated Press board of directors from 1968-1969; director of the Inland Daily Press Association from 1963-1966; director of the Kansas Press Association from 1966-1969, and president in 1967; trustee of the William Allen White Foundation since 1952, and was president of the board from 1968-1970; and a juror of the Pulitzer Prize in 1977, 1978, 1980 and 1981. He served as a director of the American Newspaper Publishers Association (now Newspaper Association of America) from 1972 to 1980, and was board secretary from 1976 to 1979. He also is a former director of the Newspaper Advertising Bureau Inc. He is a member of the American Society of Newspaper Editors.
Under his leadership, the World Company established Sunflower Cablevision in Lawrence in 1968, and Columbine Cablevision in Fort Collins, Colo., in 1978, selling the latter in 1995. He also positioned the company as a founding member of what is now the National Cable Television Cooperative. In 2005 he was recognized by the Cable Television Center as a "Pioneer" member of the industry. Under his leadership, the company has branched into online operations and been recognized with numerous awards. Mr. Simons also oversaw the acquisition of KTKA-TV in Topeka, by an affiliated company organization, in 2005. The company has been a contract printer of USA TODAY since April 1984.
In 1972, Mr. Simons was named the 20th recipient of the Colby College annual Elijah Lovejoy Award for "Outstanding Performance in Journalism Achievement" and was awarded an honorary Doctor of Laws degree. KU's Kappa Tau Alpha Journalism Society named him outstanding Kansas publisher in 1974. He was a reporter in London for the London Times in 1956 and he was employed as a reporter at the Johannesburg (South Africa) Star in 1958.
At KU, he was an officer with the KU Endowment Association, including serving as a trustee from 1977-2004, chairman of the board of trustees from 1994-2004 and member of the executive committee from 1985-2004. He also served on the board of directors for the KU Alumni Association from 1961-1965, was a member of its executive committee from 1982-1987 and national president from 1982-1983. In 1976, he received the Fred Ellsworth Award for significant service to KU, and in 1980 received the Distinguished Service Citation from KU, the university's highest honor.
Mr. Simons has been a member of the board of trustees of Midwest Research Institute since 1967; board of advisers of Kansas University's International Center for Ethics in Business since 2004; advisory board of the KU School of Business since 1963; Kansas Bioscience Authority since 2004; trustee of the Menninger Foundation since 1972; and chairman of the Lied Board of Governors since 1995. Mr. Simons served as a trustee of the National Parks Conservation Association, Nelson-Atkins Museum of Art, the Kansas Nature Conservancy and the Haskell Foundation. He was chairman of the Lawrence Chamber of Commerce in 1967 and president of the Lawrence Rotary Club from 1961-1962. He was a director of Commerce Bank in Kansas City, Mo., and of Commerce Bancshares in St. Louis, Mo. He is a past member of the Central Governing Board for Children's Mercy Hospital in Kansas City, Mo., and served on the board of Lawrence Memorial Hospital. He also is a former director of Oread Laboratories Inc. In 2005, the Bert Nash Community Mental Health Center honored him with its Pioneer Award. That same year the Lawrence Kiwanis Club presented him with its Substantial Citizen Award. In 2006, the Lawrence Chamber of Commerce presented him with its Citizen of the Year Award.
In business, he has held many titles within The World Company, including publisher of the Journal-World from 1962-2004, editor of the Journal-World from 1978 to present and president of the World Company from 1969-2004. He also was founder of WorldWest Limited Liability Company, which publishes newspapers in Arizona and Colorado.
Mr. Simons was born in Lawrence on March 11, 1930. He is a graduate of Lawrence High School and a 1951 journalism graduate of the University of Kansas. While a student at KU, he was a member of the football team for three years and he later played for the U.S. Marine Corps team at Quantico, Va. He enlisted in the Marine Corps while a senior at KU and held the rank of captain when he was discharged in 1953.
Mr. Simons is married to the former Pamela Counseller of Rochester, Minn. They have four children -- Pam, Linda, Dolph III and Dan.
His father, Dolph C. Simons, Sr., and his grandfather, W.C. Simons, are also in the Hall of Fame.
---