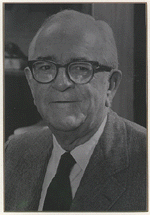 Dolph C. Simons, Sr., editor and publisher of the Lawrence Journal-World, was born November 24, 1904, and grew up in Lawrence. After graduating with a liberal arts degree from the University of Kansas in 1925, he went to work on the Journal-World, which his father W.C. had founded in 1891.
Simons was a member of the Associated Press Board of Directors from 1951 to 1960, and served two terms as vice president of the board. He was a member of the Pulitzer awards jury in 1962 and 1963.
He served as president of both the University of Kansas Alumni Association and the Kansas Endowment Association. He also was instrumental in the establishment of the William Allen White Foundation at Kansas University.
Simons died February 14, 1989.
---