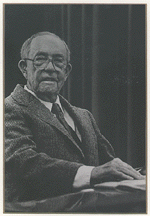 Oscar Stauffer died in 1982 at age 95, the last survivor of a golden age of Kansas journalism.
Born in Hope on November 26, 1886, he got his first job working at a grocery store in Abilene for $5 a month.
After completing high school in 1906, he took a job as reporter on William Allen White's Emporia Gazette for $6 a week.
White fired him after two years, wanting to force young Stauffer to attend the University of Kansas.
After graduating from KU and spending five years with the Kansas City Star, Stauffer made his first publishing venture in 1915 with the Peabody Gazette.
In 1930, he formed Stauffer Publications, eventually Stauffer Communications. At the time of his death, the corporation held 31 newspaper and broadcast properties in 11 states.
"I've always told people they can count that day lost when they didn't do something for their community," Stauffer said on his 95th birthday. "I still believe that very strongly."
Best known as publisher of the Topeka Capital-Journal, he remained honorary board chairman of Stauffer Communications until the time of his death.
---