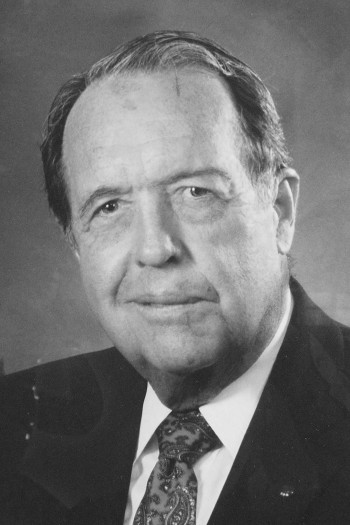 Stanley H. Stauffer was born Sept. 11, 1920 in Peabody, Kan., the second child of Oscar and Ethel Stauffer.
Oscar Stauffer had bought the Peabody Herald in 1915, starting as publisher of the weekly newspaper just as an oil boom turned Peabody into a bustling, prosperous town. It wasn't long before Oscar Stauffer set his sights on a daily newspaper and moved his family to Arkansas City.  The Arkansas City Traveler was the first daily in the company that would become Stauffer Publications, Inc.
Stan Stauffer attended public schools in Arkansas City. He graduated from Shattuck School, Faribault, Minn. in 1938.  That fall, he started classes at the University of Kansas, where he was a member of Phi Delta Theta fraternity and editor of the University Daily Kansan.  While at KU, he took flying lessons at the airfield just east of Lawrence. After graduation in 1942, he started flight training in the U.S. Army Air Corps and served during World War II in Texas as a pilot and instructor.
Stauffer married Suzanne Wallace in 1945 in New York City.  The two had met during vacations in Estes Park, Colo., where both families had summer homes. During the war, it was a long-distance courtship. On long weekends, Stauffer flew a twin-engine P-38 Lightning from Texas to New York City and the young couple would go out on the town. Stan and Suzanne had three children: Peter, Clay and Charles.
Stauffer was general manager of the Santa Maria Times, a daily newspaper on California's central coast, from 1948 to 1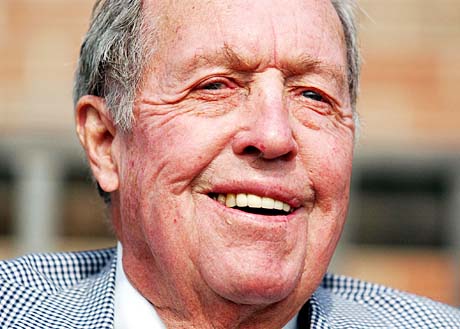 953. He was a copy editor at the Denver Post for a year, then worked a year as a reporter in the Denver bureau of The Associated Press. Stauffer returned to Topeka in 1955, just as Stauffer Publications, Inc. bought Capper Publications.  
In 1962, Stauffer married Elizabeth Priest.  They had two children, Betsy and Grant.
Stauffer became president of Stauffer Communications Inc. in 1969. By the time of its sale in 1995 to Morris Communications of Augusta, Ga., Stauffer Communications had grown into a major regional media company.  He used his many business contacts in the newspaper industry to search out and complete numerous corporate acquisitions.
Stauffer is a past president of the Kansas Press Association, the William Allen White Foundation and the Kansas Association of Commerce & Industry. He was a director of Great Lakes Newsprint Co., Yellow Freight, Overland Park and the Newspaper Advertising Bureau. He was a former senior warden at Grace Episcopal Cathedral, Topeka, and a lifelong golfer at Topeka Country Club.
Stauffer married Madeline Sargent in 1992. In retirement, they spent time in Topeka and in La Quinta, Cal. Stauffer remained an active member of the editorial board of the Topeka Capital-Journal.  Stan and Madeline both were proud of the Stan and Madeline Stauffer Multi-Media Newsroom at the William Allen White School of Journalism and Mass Communications at KU.  
 Stauffer died Nov. 2, 2006 in Topeka after a lengthy illness.
---