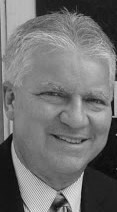 At 6-foot-5, Paul Stevens stood tall -- literally and figuratively -- in his service to Kansas journalism and the newspapers that comprise its robust press corps.
But to those who worked with and for Stevens in his nearly three decades of leading The Associated Press in Kansas, he was a gentle giant whose integrity and generosity proved him worthy of a spot in the Kansas Newspaper Hall of Fame.
The shadow cast by Stevens across the state's proud journalism heritage dwarfs his own imposing frame. During 36 years in journalism, Stevens spent 28 reporting, editing and building relationships with Kansas newspapers, including three years as AP's correspondent in Wichita, 19 years as AP's Chief of Bureau in Kansas City and six years as AP's regional vice president for newspapers in 15 states, including Kansas.
A native of Excelsior Springs, Mo., who grew up in Fort Dodge, Iowa, as the son of a newspaper editor, Stevens earned a master's degree in journalism from the University of Kansas and eventually adopted Kansas as his home state. He and wife Linda have lived in Lenexa for 28 years and are parents to three children and grandparents to four.
Newspapers large and small benefitted from Stevens' love of Kansas. He organized the first Associated Press Managing Editors group and organized annual meetings in Kansas City for editors and publishers from Kansas and Missouri, the two states for which Kansas City served as the hub in the AP's organizational system.
Stevens began his AP career in Albany, N.Y., in 1973 and transferred to St. Louis in 1974. Two years later, he became the AP's correspondent in Wichita. In that job, he covered the first of 10 killings by the infamous BTK Strangler, the trial and conviction of a sniper who killed three and wounded seven shooting from a hotel's 26th floor, and an explosion of an Air Force missile site east of Wichita. He covered the demonstrations of the American Agricultural Movement which was focused in Kansas. He served as Wichita correspondent until 1979 when he became AP's bureau chief in Albuquerque, N.M.
His goal was a return to Kansas City as Chief of Bureau, and he did it in 1984. Besides organizing a Kansas APME group, Stevens created a package called Kansas Panorama that enabled member newspapers to share their writers' work. He also created a system for Kansas newspapers to share their coverage of high school sports championships and started an annual Kansas-Missouri AP Staffer of the Year award to recognize work of outstanding AP staffers in the two states.
Stevens was directly involved in the planning and execution of 10 primary and general elections in Kansas and Missouri. He was responsible for "calling" the races, which meant declaring a winner, most of the time well before all the results were in.
He was as generous as he was busy.
On the day after the 9/11 terrorist attacks in New York and Washington, Stevens allowed AP members who did not take AP's photo service and non-members to use pictures -- free of charge -- of the damage to the Twin Towers and the Pentagon. After that gesture, the Kansas and Missouri press associations returned the favor by presenting him a rare joint award that noted, "During a time of national crisis, your service to Kansas and Missouri newspapers stood tall."
Stevens' value to AP was enhanced by the quality of young people he hired to fill vacancies in the six bureaus under his charge in Kansas and Missouri. These hires currently include Washington Bureau Chief Sally Streff Buzbee, West Regional Editor Traci Carl, Central Regional Editor David Scott and Topeka Correspondent John Hanna, plus Kansas City Chief of Bureau Kia Breaux, Kansas City News Editor Chris Clark and Wichita Correspondent Roxana Hegeman.
Stevens was inducted into the Missouri Newspaper Hall of Fame in 2006.
Stevens may have retired from AP in 2009, but he remains highly visible as a volunteer creator and caretaker of a daily email distribution to AP retirees and former staffers. It provides links to stories about the media industry, press critiques and deaths and activities of noted AP retirees.
Few stand more devoted to the cause of Kansas journalism than Paul Stevens.
Paul and Linda Stevens enjoy the introductions prior to his induction into the Kansas Newspaper Hall of Fame on May 3, 2013. Below, the Stevens family gathers for a portrait.
---