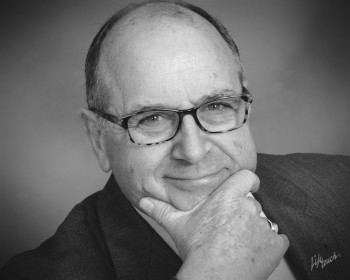 Rudy Taylor started his career in journalism while serving as reporter for his high school FFA chapter.
Every morning, his advisor required him to make a one-block walk to the Caney Chronicle office and say good morning to the editor, H.K. George.  "That daily greeting always resulted in the editor asking questions about our chapter projects, and it always ended up in print," Taylor recalls.
Soon, he was pulling himself up to the Chronicle's 1923 Underwood typewriter and creating his own stories. And, so it started.
Rudy also fell in love with the editor's daughter, Kathy, during high school, and they now have been married for 52 years.
Later, during his second year of college, Rudy still felt that writing urge and he signed up for Reporting 101 at Central State College.
"I knew the minute I entered that door that I was home," he says, still with a glisten in his eyes. "And when I walked into the print shop and heard the clatter of the Linotypes and smelled printer's ink, I knew this would be my life's vocation."
Before college was concluded, he was working full-time in radio and television, then spent two years in corporate publications for Phillips Petroleum Company in Bartlesville, Okla., 20 miles south of his hometown of Caney.
"I worked on the 16th floor at Phillips, and from my desk I could barely see the water tower in Caney," he recalls.  "All I could think about was my wife's parents working in their newspaper office, and how I wished I might join them."
In October 1970, Rudy and Kathy made their move north and bought the Caney Chronicle — the very newspaper office where she had grown up working with her brother, two sisters and both parents, in the publication of the hometown newspaper.
Forty-eight years have transpired since that day, and the Taylors are still at the helm of a three-newspaper world. Their son, Andy, joined them in 1994 and they bought the weekly newspaper in nearby Cherryvale, later merging the two publications into The Montgomery County Chronicle. Andy Taylor is editor of the Chronicle today, and his leadership is a rarity in today's newspaper business — staying in a growth mode.
Kathy's grandparents and great-grandparents also were newspaper editors, making her a fourth-generation Kansas journalist.
The Taylors later bought four weekly newspapers in Labette County and went about merging them into one publication, The Labette Avenue, based in Oswego.            They then purchased two newspapers in Elk and Chautauqua counties, combining them into The Prairie Star.
Their daughter, Jenny Diveley, took over the Prairie Star and continues as its editor today, also sharing major management duties for all three newspapers.
Another son, Matt, took his KU journalism degree into the business of banking, and is quite successful there.
Rudy totally yields his Hall of Fame honor to Kathy, because she was his original link to the fascinating world of journalism. She has worked in the Chronicle office for 50 years — the only job she has ever held.
In addition to his publishing duties, Rudy has taught journalism at Coffeyville Community College on an adjunct basis, and held other part-time positions in the area of public relations and politics. But during those years, he still returned to the newspaper office by day's end, and that's where he remains today at the age of 72.
Rudy is best known for the 4,000 columns he has written over the past 48 years, titled "Off the Cuff." His editorials have been winners any time they are submitted for award judging, and in 2012 he was named Clyde M Reed Master Editor by the Kansas Press Association.
In recent years, he has penned two books, "Light on Main Street," and a novel called "Jimmer Tales."
He has been actively involved in foundations, civic and church boards and political involvement.
Rudy and Kathy's children are: Matt and Paula Taylor of Holton, and their three children, Ryan, Carson and Amanda; Andy and Amy Taylor of Independence and daughter Lillie; and Jenny and Landon Diveley of Chanute and two sons, Trenton and Ethan.
---