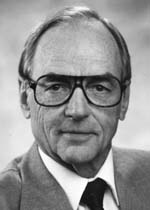 Russell T. Townsley, former Russell Publishing Co. president and publisher of the Russell Daily News was born Dec. 27, 1919 in Great Bend, the second son of Will L. Townsley and a grandson of C.P. Townsley, founder of the Great Bend Tribune.
Russ began his newspaper career as a carrier for his family's paper, the Great Bend Tribune. His route included the downtown businesses that could be quickly served on roller skates.
Apparently, his roller skating over the marble floor of the courthouse loudly announced his deliveries to everyone in the building and brought about the first of several changes in his employment with the Tribune during those early years.
He married Mary Jane "Janie" Krug on Aug. 21, 1942 in Great Bend. They had two children: Russell William Townsley, Overland Park, and Alice Townsley Bair, Aurora, Neb. Janie still lives in Russell and Janie, Russell W. and Alice are with us here tonight.
Daughter Alice Bair taught high school journalism for years and her son, Trevor Bair, is the family's fifth generation involved in the profession. He works for SAXOTECH, a leading provider of integrated web and editorial content management software and on-line advertising solutions.
After working at the Great Bend Tribune, Townsley, his brother, William L. Townsley, and sister, Helen Townsley Coogan, purchased the former Russell County News from Lowell Hogue in 1947.
The Townsleys announced soon after that the newspaper would become a daily published six days a week. The first daily edition came just after Labor Day that same year.
Russell Townsley and Allan D. Evans formed a partnership and owned and operated newspapers in Hoisington, Claflin, Natoma and Luray, in addition to newspapers in Texas. They also owned radio stations in Great Bend and Emporia. He also served in the U.S. Army Air Corps in World War II, rising to the rank of lieutenant.
Townsley said an informed public is the goal of any good newspaper.
"It isn't the purpose of daily newspapers to dictate public issues, principles or morals," he once wrote. "It is the purpose, however, to give readers every chance to learn the facts and to give them room in which to form their own opinions, for and against."
As publisher of the News, he called a spade a spade. He said his job was to report the news, not to make the news, and he reported the news as it happened, not as some wished it had happened. If your name went on the police blotter, it went into the paper.
As with many small town dailies, Russ wore a number of hats at the Daily News. As a reporter, his daily routine included stops at the courthouse, the sheriff's office and police station before ending up at the drug store's coffee counter.
Russ' companion at that time was a basset hound with a fondness for beer, aptly named -30-. Good ol' "Thirty" knew his owner's routine well, so when distractions resulted in the two being separated, "Thirty" would just go to the drug store and curl up at the end of the coffee counter waiting for his master.
For many years, the more fragile gift items the store carried were displayed on the shelves above the range of -30-'s wagging tail.
A heavy blizzard rolled across western Kansas in the late 1950s, leaving five-foot snow drifts throughout Russell that made streets impassible and cut off UPI wire service to the paper. Russ strapped chains on a 1927 Model T coupe he had just restored and motored through the clogged streets with no trouble.
Townsley sold his newspaper interests when he retired in 1989 after 42 years in the business. He died Oct. 6, 2005, in Russell, at the age of 85.
After his retirement, he remained active in the community, with golf and old cars as his principal hobbies.
---