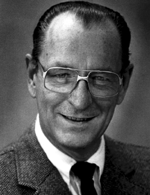 Robert B. Wellington was born into a newspaper family on Aug. 14, 1922, in Kansas City, Mo. He attended the University of Kansas and graduated in 1944 from the University of Missouri-Kansas City with a degree in history and political science.
Bob entered the United States Navy in 1943. During World War II, he earned the rank of Lieutenant and served in seven battle engagements in the Central and South Pacific theatres aboard the USS President Adams. After being honorably discharged in 1946, he married Dorothy "Dottie" Watts and began working as a reporter for the Harris Newspaper Group in Chanute.
In September 1948, he moved to Hutchinson, working as a reporter, and soon as Sunday and night editor for the Hutchinson News. In 1957, he moved to Ottawa to become editor of the Ottawa Herald. He earned the additional title of publisher in 1961, and served in that position until his retirement in 1987.
Bob and Dottie raised their four sons -- Thomas (Ottawa), J. Patrick (Farmers Branch, Tex.), David (Edmond, Okla.) and James (Wellington) -- in Ottawa.
Bob was a member of the Grace Episcopal Church in Ottawa where he served as Senior Warden in 1965. He was president of the William Allen White Foundation in 1985-86; chairman of the Kansas Associated Press Editors; member of the Kansas Press Association; member of the Associated Press Managing Editors; and member of the American Society of Newspaper Editors. He served for 12 years on the Ransom Memorial Hospital Board of Trustees; was chairman of the Ransom Memorial Hospital Charitable Association; and a member of the Board of Trustees for the Science Pioneers in Kansas City, Mo.
Bob died Dec. 19, 2000, after a two-year battle with pulmonary fibrosis.
---