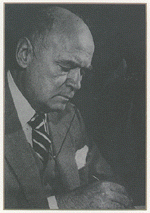 The son of William Allen White, William L. White began his distinguished career at age 14 as a reporter on the Emporia Gazette. He graduated from Harvard in 1924 and was a member of the school's Board of Overseers from 1950 to 1956.
White took over as publisher of the Gazette in 1944 after his father's death. Prior to World War II, he had worked for the Washington Post and Fortune Magazine.
He served as correspondent for 40 daily newspapers and for CBS radio from Europe during the war, and in 1939 won the National Headliners Club award for best European Broadcast of the year.
A noted author, White published several novels and was a roving and contributing editor of Reader's Digest.
He died in July, 1973.
---