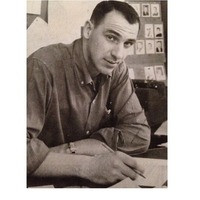 Lloyd W. Ballhagen was born Aug. 21, 1931, in a farmhouse six miles east of Peever, S.D., one of the eight children of Frank and Vesper (Metz) Ballhagen.
He graduated from Beardsley High School, Beardsley, Minn., in 1949 and spent two years on the farm after high school. In 1951, he joined the United States Marine Corps, serving in Japan and Korea, and attained the rank of sergeant 11 months after joining. He was honorably discharged in 1954
He graduated from the University of South Dakota in Vermillion with a Bachelor of Arts double degree in history and journalism. Ballhagen was a member of six honorary fraternities including Phi Beta Kappa. He was editor of the campus newspaper, The Volante, for two semesters. Lloyd also served two terms as president of the Independent Student Association and was a member of the Greek and Latin Honorary Society.
In 1958, Lloyd was the lone selection from 40 applicants by the Harris newspaper and radio station group as the second executive intern. After completing his four-year training in all departments of a newspaper, Lloyd became editor and publisher of The Spencer Daily Reporter and Sunday Times in Spencer, Iowa.
After three years at Spencer, he served as editor and publisher for The Hays Daily News after Harris Group bought the Hays daily in 1970.
During Lloyd's three years at Hays, he was appointed assistant to the president of Harris Group, Peter Macdonald. He continued as Macdonald's assistant until he was named as president of Harris Enterprises, Inc. in 1978. The Harris Group Corporation then owned 11 daily newspapers and six AM and seven FM radio stations.
Lloyd's title was changed to president and CEO in 1984, and to chairman of the board and CEO in 1992. Lloyd continued in that capacity until his retirement in 1997.
Lloyd served as chairman of the KPTS Channel 8 board of trustees for two years, and was a member of that board for 20 years. In addition, he was chairman of the Reno County Chapter of the American Red Cross for two years, and vice president of the Reno County Historical Society. Lloyd also served as a board member of the Kansas Cosmosphere and Space Center for six years, during the building of its first major facility. Lloyd served on the board of trustees of the Kansas 4-H Foundation for five years, as charter board member of Skylights, Inc. (a teenage drug and alcohol treatment center), vice president and board member of the Hutchinson Symphony, twice a member of the board of Hutchinson Friends of the Library and editor of the Friends' newsletter. Lloyd also served on the boards for Kansas Friends of the Library, Inland Daily Newspaper Association and was a member of the American Newspaper Publishers Association government committee. Lloyd belonged to Trinity United Methodist Church, Hutchinson, where he taught adult Sunday school classes for more than 20 years. He also gave sermons in Methodist churches located in Beardsley and Browns Valley, Minn., Vermillion, S.D., Ottawa, and Trinity United Methodist Church, Hutchinson.
During his retirement, which began Jan. 1, 1998, Lloyd kept an office in downtown Hutchinson. He wrote historical books, including the history of Harris Group, the Ballhagen family, a three-volume autobiography, a book of 99 essays and 23 novels. Most of his books can be found at the Hutchinson Public Library.
Lloyd died Sept. 28, 2020 at Hospice House in Hutchinson. Lloyd is survived by two sons, Kurt of Lawrence and Clint of Hutchinson; sister, June Docherty and husband Neil of Buffalo, Minn.; brother, Dr. Jay T. Ballhagen and wife Susan of Eagle, Idaho; and former wife of 32 years, Eunice Arndt.
Lloyd was preceded in death by his parents; longtime companion of 29 years, Sonia C. Hayse; three brothers, Ivan, Melvin and Orville; and two sisters, Ada Herrmann and Lamoine Herrman.
---