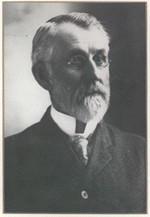 M.M. Beck was a captain of artillery in the Union army during the Civil War, after which he was a farmer, merchant, and druggist. In March 1875, he bought into a new publication called the Holton Recorder, and became sole owner of the paper in 1881.
According to the March 1931 issue of the Jayhawker, "without previous experience he learned the details of the business and acquired a facility for writing."
In 1896, Beck sold one-third interest in the paper to his son Will. In August, 1905, the Becks purchased the Holton Tribune and merged the papers. Beck continued his connection with the Recorder as editor, owner, or contributor until his death in February, 1931, at age 92.
Beck was recognized as the dean of Kansas newspaper men. The Jayhawker called him, "A loyal Kansan since 1869, a fighter for principle in those earlier days and a kindly philosopher in the mellowing autumn of his life.
"He has truly been one of the builders of Kansas and his life and work has been an aspiration to many a young newspaper man."
---