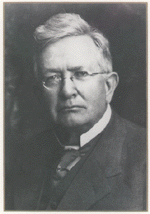 When the Kansas Editorial Association became the Kansas Press Association on January 19, 1924, William Elmer Blackburn stood almost alone among the state's editors in his vote against the change. The following year, he organized a new Kansas Editorial Association.
With Blackburn serving as its secretary, the new KEA attracted many of the state's most powerful editors. Tom Thompson was elected the first president, with such notables as Will Beck, Victor Murdock, Frank Boyd, Sr., and A.Q. Miller succeeding him in office. The Association was disbanded in 1941.
Blackburn, publisher of the Anthony Republican and Herington Sun, served on the Board of Regents of the Kansas State Agricultural College from 1907 to 1913.
His flowery editorial "October in Kansas," published in the Republican in 1898, became a classic in Kansas journalism.
Blackburn died June 2, 1929, at age 67.
---