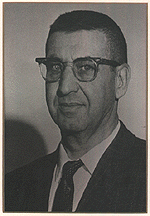 John Boyer was born July 14, 1905, in Pawnee City, Nebraska. He attended the University of Nebraska and played on the Cornhusker football team in the mid-1920s. In 1930, he moved to Scott County and eventually became editor and publisher of the News-Chronicle.
Boyer served as president of the Kansas Press Association in 1962. He was also active in civic organizations and was president of the Scott County Red Cross chapter. He was active in the Scott City Lions Club, the Chamber of Commerce, and the Scott County Golf Association.
Due to failing health, he retired in 1970, after more than 40 years of newspapering in Scott City. He died in 1972.
---