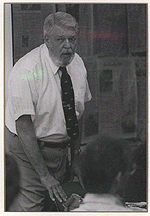 John B. Bremner, long-time KU journalism professor, was born in Australia and worked in that country as a magazine editor, newspaper columnist, and radio writer and announcer. He received theology degree in Rome, a master's in journalism from Columbia and a PhD. in mass communications from the University of Iowa.
He came to America in 1950 and worked as a weekly newspaper editor, political columnist and book reviewer before coming to KU in 1969.
During his tenure at the university, Bemner won two distinguished teaching awards. He authored two books, including "Words on Words," which was called "a work that every writing man or woman will want on a reference shelf."
"I work on the premise that the language in American newspapers is English -- not jargon," Bremner once said. "I think that newspaper readers want and deserve both good grammar and good taste, along with good information."
Bremner died in Florida on July 30, 1987, at age 66.
---