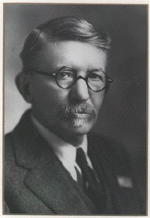 Clark Conkling was born in Sharonsville, Ohio, in 1851, and attended Western Reserve College in Cleveland. Always of frail health, his family and physicians urged him to move west in search of a more healthful climate. He did, and lived to age 87.
Conkling moved to Colorado in 1873, and six years later relocated to Sterling. Soon thereafter, he moved to Lyons and started the Republican. He sold the paper in 1921 after being elected to the state legislature, but still retained his desk in the office and contributed regular writings.
When the Republican was purchased by the Lyons Daily News, Conkling purchased stock in the paper and kept his desk.
Following his death in April 1939, the Daily News said that,"It is difficult to estimate the value of the sterling qualities and long life span of active endeavor of a man of his kind. For sixty years he gave his best efforts to every constructive cause that cried for a champion."
---