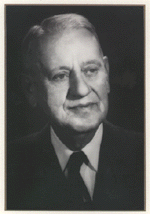 Jess C. Denious, publisher of the Dodge City Daily Globe, was born in Mogadore, Ohio. When he was five, his family moved to a farm near Parsons.
After graduating from Baker University in 1905, he spent two years on the Ottawa Herald. From 1906 to 1909 he was part owner of the Erie Record, and after that spent a year as an editorial writer for the Wichita Beacon.
In 1910, Denious purchased an interest in the Dodge City Globe-Republican. He bought out his partner a year later and continued to publish the Globe until his death four decades later.
Said the Pittsburg Headlight after his death on December 1, 1953: "Jess Denious was a man of quiet firmness. He was fearless in everything he did and it was merely because it never occurred to him to do anything else.
"He never put on a show, although Jess Denious in action was, in fact, an entertainment as well as an inspiration."
---