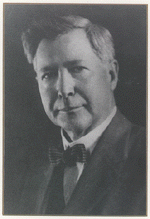 J. Frank Jarrell was active in Kansas journalism for more than 60 years. "Few persons in Kansas were so widely known or so universally liked," wrote the Kansas City Star.
"His acquintances included the great and near great of more than five decades;" said the Topeka Daily Capital, "thousands knew him as a writer or as a famous story teller."
He was born Sept. 19, 1866, near Effingham, a decade after his parents came to Kansas in a covered wagon.
In the late 1880's he became Topeka correspondent for the Kansas City Times, and went on to serve as city editor of the Topeka Daily Capital. He purchased the Holton Signal in 1906, selling it in 1911.
In 1910 he was hired by the Santa Fe Railroad for a publicity job which he thought would last a few weeks, but he remained with the railroad until shortly before his death in 1941 at age 75. He served as editor of the Earth, a magazine published by the Santa Fe.
---