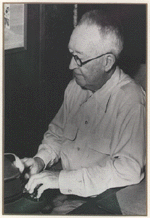 Paul Jones was born in Lyons and studied at DePauw University in Indiana. After college he moved to Tulsa, which was then Indian territory.
He later moved to Coffeyville and established the Morning Sun in 1910.
In 1915, Jones sold the paper and moved to Pittsburg, where he established another Morning Sun. In 1918 he bought the Lyons Daily News, which he published for 36 years until his death in 1954.
A Democrat active in state party affairs, Jones broke with the New Deal and in 1936 campaigned with Alf Landon in his bid for the presidency.
In the late 1920's, Jones became interested in the discovery of evidence that the old kingdom of Quivera, which Coronado visited in 1541, was in the Lyons area. Research led him to Mexico City, where he uncovered new data about Coronado. This led to his writing of the book, 'Coronado and Quivera.'
Jones and Charles Harger were both elected to the Hall of Fame in 1958 following the first tie in the history of the voting.
---