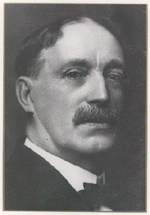 David D. Leahy was born in Ireland in 1858 and came to Kansas when Wichita was still a frontier village. In 1889, he made the rush into the Oklahoma Territory.
For many years he was a reporter and special writer for the Wichita Eagle, and he also edited several southwestern Kansas newspapers.
Leahy also served as private secretary to Congressman Victor Murdock and Governor W.R. Stubbs. Considered an authority on the early days of the state, he was president of the Arkansas Valley Museum and Historical Society.
---