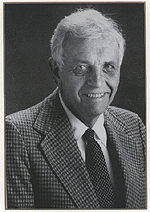 Fred Moen was the Kansas City chief of bureau of Associated Press news operations in Kansas and Missouri for 13 years, from 1971 to his retirement in 1984. He is the only AP representative to be elected to the Hall of Fame.
He died January 1, 1991, at age 71 after a long illness.
During his 38-year AP career that took him to North Dakota, Tennessee, Arizona, Kansas and Missouri, Moen played a direct role in coverage of some of the major stories of the past generations including the Greenlease kidnapping-murder case, the Clutter killings in Holcomb, Kan., Barry Goldwater's bid for the presidency, the assassination of Martin Luther King, the death of Harry S. Truman, and the skywalks collapse at the Hyatt Regency in Kansas City.
Moen was a World War II veteran who served with Patton's Third Army. He joined the AP in 1946 in Bismarck and moved to Kansas City in 1953. He was named AP's Topeka correspondent in 1956 and three years later returned to Kansas City to become assistant bureau chief. Moen was named chief of bureau in Phoenix in 1963 and chief of bureau in Nashville in 1966. He was appointed chief of bureau in Kansas City in 1971.
At Moen's funeral services, Kansas City Star Publisher James H. Hale lauded the dedication to journalism of his close friend. "Fred had remarkable enthusiasm for keeping up with world news, local news and neighborhood news," Hale said. "He was always, even in the days when his quality of life was declining, interested in the news…He was almost ecumenical in his pursuit of this Associated Press organization. He leaves behind a rich legacy in that respect." 
---