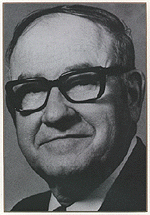 Warren "Jiggs" Morford was the long-time publisher of the Western Times in Sharon Springs. In 1932, at age 16, he went to work as a printer's devil at the Lenora News, where his main duties included melting metal, running hand-fed presses, and 'finally graduating from those mundane duties and becoming a linotype operator.'
After attending Fort Hays University for two years, Morford became publisher of a paper in Lenora. He moved on to the Center (Colorado) Post-Dispatch and the Pryor Daily Times before purchasing the Western Times in 1958.
Morford served two years in the U.S. Navy, and was mayor of Sharon Springs for 18 years. He served as president of the Kansas Press Association in 1984-85.
Morford died in 1989 at age 72.
---