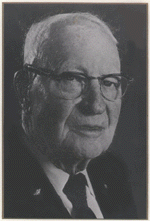 Born in 1883, Marcellus Murdock was the son of Wichita Eagle founder Marshall Murdock. In 1903, he became the Eagle's managing editor, and four years later he took over as publisher.
He began serious competition with the Beacon, launching an evening edition of the Eagle in 1927. In 1960, the newspaper war ended when the Eagle purchased the Beacon.
Murdock later said the competition had caused his brain to operate at full capacity so "whatever was there got its full test."
Murdock earned the Award for Journalistic Merit from the William Allen White Foundation at KU in 1961.
Murdock became the flying editor of Kansas in 1929 when he was breveted a pilot by aviation pioneer Orville Wright.
Said KU Professor Calder Pickett, "The history of this man is almost the history of journalism in Kansas. He was a gentleman, a warm, winning personality," and a man who saw himself as a 'shining example of what can happen to mediocrity."
---