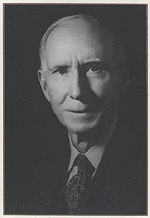 L.F. Valentine was born Dec. 15, 1877, in Topeka. He graduated from Washburn University in 1900 with a degree in geology. Valentine once wrote that his entering journalism was "purely accidental," as his brother asked him to run a newspaper in Clay Center despite the fact that, "he knew nothing about the business from any angle."
Valentine began to work on the Clay Center Times, and came to dominate newspaper journalism in the city, overcoming an opposition daily and several weeklies.
In 1924, he purchased his brother's interest in the paper, and in 1941 he and his children joined to purchase the Dispatch, thus combining the newspapers of Clay Center.
He was president of the Kansas Press Association and head of the Chamber of Commerce and Rotary Club in Clay Center.
During World War II he came out of semi-retirement to run the papers, and after the war he continued to write until about a week before his death on June 20, 1962.
---