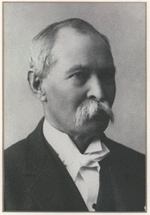 According to the September, 1931, issue of the Jayhawker, Daniel Webster Wilder "not only made Kansas history and wrote it, but he lived it as well. His 'Annals of Kansas' will be a classic as long as Kansas is a state. And he is one of the few historians whose statements are never challenged. If Web Wilder wrote it, it is true."
Wilder served as secretary of the Osawatomie convention that organized the Republican party in Kansas, and traveled through the state with Abraham Lincoln. He once referred to Populism as "a Kansas loco weed that affects the brain of every animal coming in contact with it."
During his tenure as editor of the Free Press in Elwood, Wilder was indicted for running a free state paper. With D.R. Anthony he founded the Leavenworth Conservative.
In 1863, Wilder was made surveyor general of Kansas and Nebraska, but the lure of the newspaper business proved too strong and he returned to the Conservative five years later.
In his later years, Wilder founded the Hiawatha World, and, according to the Jayhawker, "during a long history he was one of the best and busiest men Kansas has ever known." He died July 15, 1911.
---