Capital-Journal's Nusbaum named VP of Morris
Mark Nusbaum, editor and publisher of The Topeka Capital-Journal since 2004, has been named vice president of operations for the newspaper's parent company, Morris Publishing Group, headquartered in Augusta, Ga.
In his new role, Nusbaum, a Topeka native, will oversee core functions for MPG's newspaper business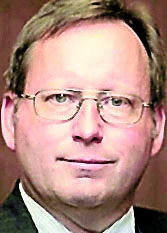 units. Nusbaum will lead efforts to re-engineer cost structures and operational functions to achieve the company's financial and strategic goals.
Gregg Ireland, controller at The Capital-Journal, will serve as interim publisher at the C-J until a publisher is named. Ireland was formerly a corporate auditor for Stauffer Communications and has served as C-J controller since 2003.
The appointments are effective immediately.
"I am very pleased that we are able to name Mark to this position," said Will Morris, president of Morris Publishing Group. "It will be a pleasure to work with him."
"Mark is an outstanding leader with a proven track record of success," said Derek May, executive vice president of Morris Publishing Group. "His knowledge and experience will be invaluable as we transform ourselves into a digital-first media company."
Nusbaum, 55, joined The Capital-Journal news staff as a copy clerk while in high school. He joined the staff full-time after graduating from Washburn University in 1977 and served as a reporter, copy editor, business editor, managing editor, advertising director, executive editor and publisher. From 1999 to 2004, he served as publisher of the Morris-owned Lubbock (Texas) Avalanche-Journal.
"This is a great opportunity to help build a bright future for our company, and I look forward to the challenge," Nusbaum said.
Downloads
---