Les Anderson, newspaperman and educator, dead at 62
Les Anderson, founder and former owner of the Ark Valley News in Valley Center and a professor of communication in the Elliott School of Communication at Wichita State University, died Saturday night of an apparent heart attack. He was 62.
Anderson had just been honored a few weeks ago at a fund-raiser at which his current and former students and colleagues established the Les Anderson Fund for Students. To view a Youtube video done for that occasion, click here.
The fund-raiser had been promoted as a "come-as-you-are" affair because of Anderson's penchant for dressing casually.
"This is a tragedy of untold proportions both for the newspaper industry in Kansas and for the educational establishment as well," said Doug Anstaett, executive director of the Kansas Press Association. "Les was a mentor to hundreds if not thousands of students who often got a great hands-on experience while working at the Ark Valley News.
"He has left an indelible imprint on Kansas journalism and will be truly missed. Our thoughts and prayers are with his family and many friends around the state and nation."
Anderson was a former KPA president and former president of the Kansas Newspaper Foundation Board of Trustees. He won numerous awards through the years. He was presented the Clyde M. Reed Jr. Master Editor Award three years ago and was also recipient of the Boyd Community Service Award, the Gaston Outstanding Mentor Award and the Victor Murdock Award. He was presented the Alumni Achievement Award at Fort Hays State University just last month.
He worked at the Hays Daily News while studying at FHSU and at the Columbia Missourian while earning his master's degree at the University of Missouri.
He worked at the Wichita Eagle from 1971 to 1974, then helped start the weekly Wichita Sun in 1975, and in 1975, the Ark Valley News in Valley Center, a weekly he published until 2007.
He joined the faculty at WSU in 1977, where he taught writing, editing and community journalism courses.
Anderson is survived by his wife, Nancy of Valley Center; mother, Marceille Sult of Valley Center; brothers, Dan of Houston, Gary (Vicki) of Valley Center, John (Kelly) of Wichita; sister, Debbie (Brad) Edwards of Valley Center; children and families, Spike (Kristin, Emma and Isaac), Maggie (Mike, Joey and Tommy) Spratt, Ben (Jamie, Abby, Katie, Charlie and Samantha), Seth (Julie, Sydney and Kelsey) and Patrick Vera.

Those wishing to send a card to Nancy and the family can send it to: Nancy Anderson, 8701 N. Kessler Rd., Valley Center, Kan 67147.
Visitation will be from 5 p.m. to 8 p.m. Friday, Nov. 18 at First United Methodist Church, 550 N. Park Ave., Valley Center, Kan.

The funeral will be at 10 a.m. Saturday at Hughes Metropolitan Complex at WSU, 5015 E. 29th St. North, Wichita. Burial will be in the Valley Center Cemetery, 93rd Street and Meridian.
Memorials may be sent to the WSU Foundation c/o Les Anderson Fund for Students, 1845 Fairmount, Wichita, KS 67260, or the Valley Center library building fund c/o Friends of the Library, 321 W. First, Valley Center, KS 67147.
Go here to read his obituary in the newspaper he founded: http://www.arkvalleynews.com/web/isite.dll?1321301576296
Read more: http://www.kansas.com/2011/11/13/2102070/les-anderson-remembered-as-teacher.html#ixzz1dh0Wnd4l
Anderson also had continued to write a column for the Ark Valley News. Here is the one that ran this past week:
http://www.arkvalleynews.com/web/isite.dll?1320942180140
Here is a link to Anderson's Facebook page, where many of his students have recorded heartfelt remembrances of their teacher, mentor and friend:
http://www.facebook.com/profile.php?id=516675000
Here is a link to an article in the Nov. 14 Wichita Eagle by Beccy Tanner:
http://www.kansas.com/2011/11/13/2102070/les-anderson-remembered-as-teac...
Here is a link to a Bob Lutz column on Nov. 14 in the Wichita Eagle:
http://blogs.kansas.com/lutz/2011/11/13/les-anderson/
Click here to read a letter written by Doug Anstaett on behalf of Anderson's quest to become a full professor at WSU.
Below is a cartoon from Richard Crowson: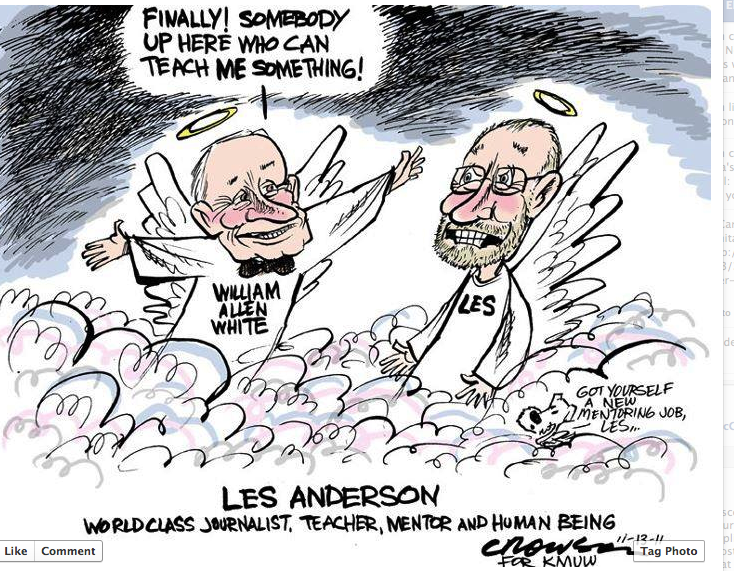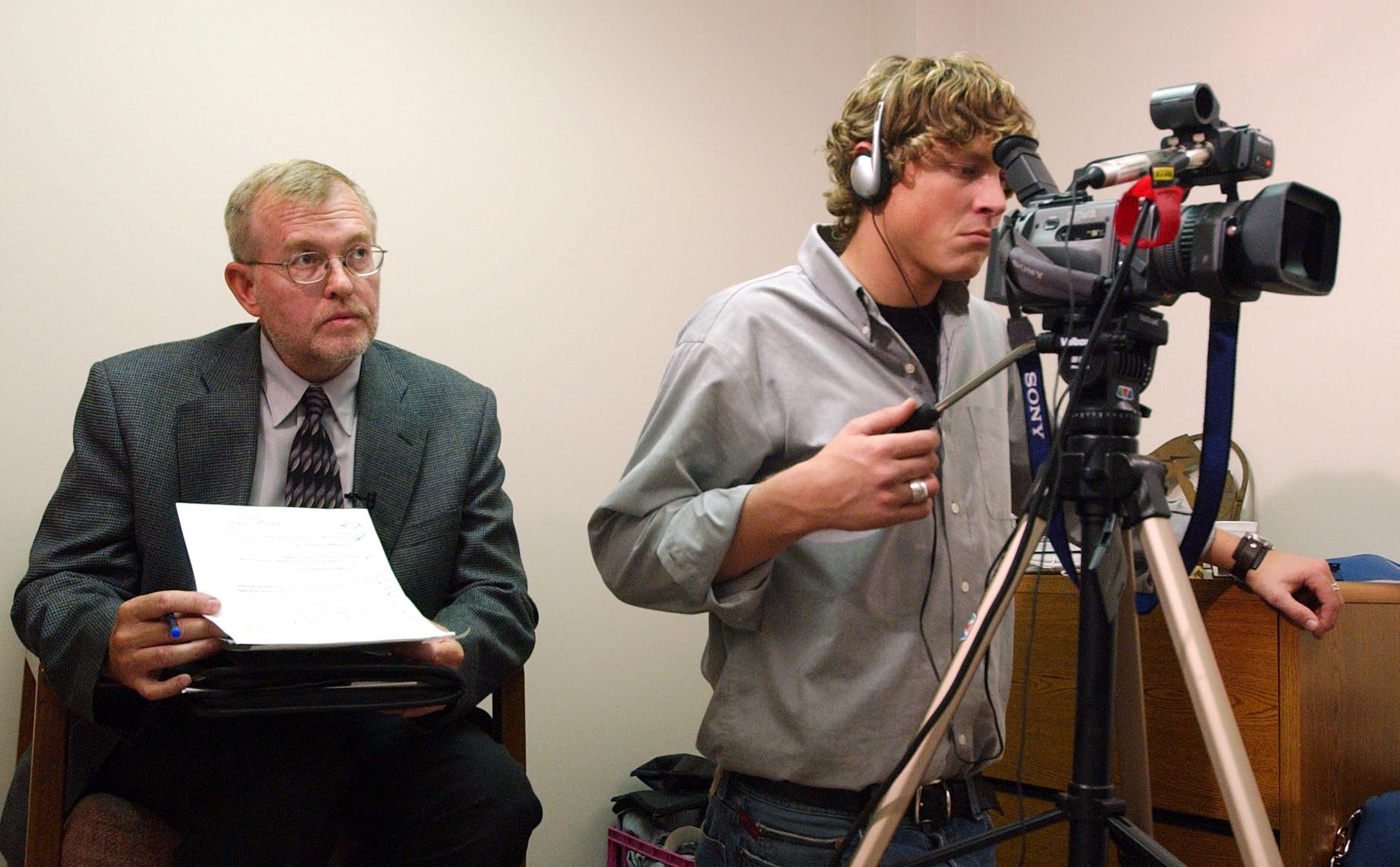 In the fall of 2003, Les Anderson led a series of interviews of KPA members for a video that was produced in 2004 for the annual convention in Overland Park. In the top picture, he and his family gathered after he had received the Reed Master Editor Award in 2009. Below is the cover of his book of columns, "Never Take a Snake for a Ride."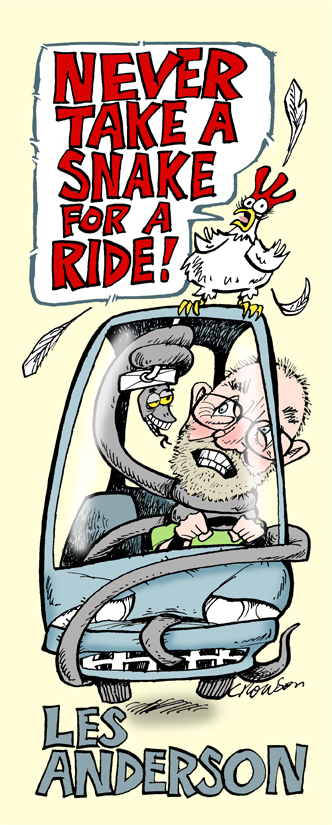 ---