Services held for long-time Independence publisher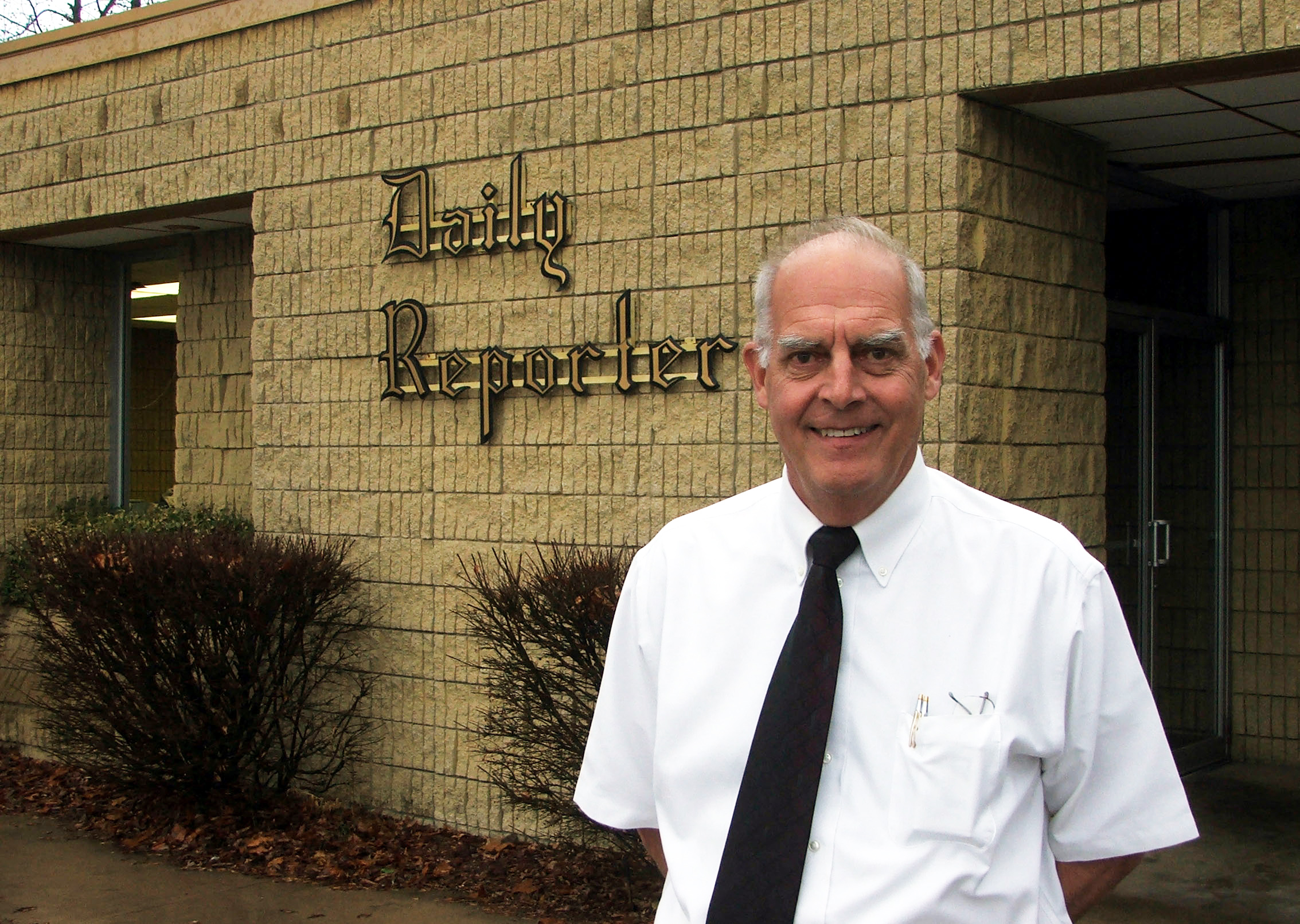 INDEPENDENCE, Kan. — Herbert A. "Hub" Meyer III, editor and publisher of the Independence Daily Reporter for over 43 years, died Thursday (Aug. 7, 2014) at his home following a battle with prostate cancer. He was 67.
Cremation has taken place and a Celebration of Life Service was held at 1 p.m. Monday (Aug. 11, 2014) at the First United Methodist Church in Independence, with the Rev. Melanie Adams officiating.
Inurnment will be held at a later date under the direction of the Potts Chapel of Independence.
The family has suggested memorials to the FORPAZ Logan Fountain renovation project or Harry Hynes Memorial Hospice of Coffeyville. Contributions may be sent to the funeral home Potts Funeral Chapel at 122 S. Penn, Independence, KS 67301.
Meyer became publisher of The Reporter in June of 1971, taking over after his father's death. His grandfather, Herbert A. Meyer Sr., bought the newspaper in 1940 and later was elected to Congress, representing Kansas' 3rd District.
Herbert Meyer III graduated from the University of Kansas in 1969 with a degree in business and worked for the Lawrence Journal-World covering local news and sports before returning to Independence.
"Hub was a key member of an energetic Journal-World reporting staff in the late 1960s - early in what would be long careers in journalism for many of us like Chuck Woodling, me and others," said Ralph Gage, a former reporting colleague of Meyer and now retired executive of the Journal-World and the World Company. "Those days were a lot of fun, as well as hard work. They produced good journalism and warm memories. It was a shock to learn of Hub's passing, and it's difficult to accept. His family and friends certainly are in our thoughts and prayers."
Meyer also was active in the Kansas Press Association and was a past chairman of the Kansas-Missouri Associated Press Publishers and Editors group.
He was a member of the Montgomery County Action Council, Independence Industries, Independence Chamber of Commerce, Wheeler Dealers and had served on the Governor's Ethics Committee. He was also active in the Kansas Press Association and was a past chairman of the Kansas-Missouri Associated Press Publishers and Editors group.
Survivors include his wife Kristin, of the home; two sons, Herbert A. "Chip" Meyer IV and wife JoAnn, of St. Louis, Mo., Scott Meyer and wife Toni, of Lee's Summit, Mo.; one daughter, Brittiany Meyer, of Independence; and five grandchildren, Katelyn, Matthew, Christopher, Cole, and Cooper Meyer.
"Hub will be missed. He was a great sounding board and I could always count on him to step into leadership roles," said Kia Breaux, Associated Press bureau chief for Kansas, Missouri and Iowa. "He had a gregarious personality and quick wit about him, but he was serious and very passionate about journalism. He kept us on our toes."
----------
Those wishing to send a card to his wife should address it to:

Kristin Meyer
924 Birdie Dr.
Independence, KS 67301
Downloads
---