Shawnee Dispatch prints final edition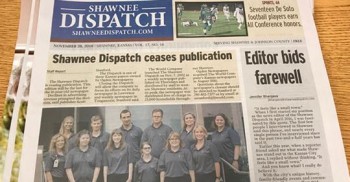 The Shawnee Dispatch is ceasing publication. Today's edition will be the last for the 16-year-old newspaper.
Declines in advertising revenue prompted the decision, said publisher Scott Stanford.
The Dispatch is one of three Kansas papers owned by Ogden Newspapers.
Closing the Dispatch will allow the company to focus its efforts on its daily newspaper in Lawrence and weekly newspaper in Tonganoxie, Stanford said.
The World Company launched The Shawnee Dispatch on Nov. 7, 2002 as a weekly newspaper published on Thursdays and distributed by mail to western Shawnee residents. At its peak, the newspaper was distributed free of charge to 23,000 households throughout Shawnee.
Ogden Newspapers acquired The World Company's Kansas newspapers in August 2016.
---