Two newspaper editors among 25 notable Kansans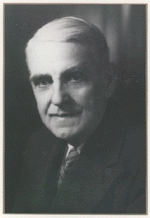 William Allen White                                             Arthur M. Capper
William Allen White, the "Sage of Emporia," and Topeka publisher/politician/disability advocate Arthur Capper are among the 25 notable Kansans named in observance of the state's sesquicentennial celebration.
Both are members of the Kansas Newspaper Hall of Fame.
The selections were the work of a task force that scoured history books for an elite group of people who left an imprint on Kansas.
White, who bought the Emporia Gazette newspaper in 1895, ultimately received two Pulitzer Prizes.
When he died in January, 1944, he was eulogized as "one of the truly great Americans" of his age. Aside from his literary achievements, he had also become an influential figure in state and national Republican politics and confidant to several American presidents.
White was born in Emporia on Feb. 10, 1868. He entered the newspaper field through the back shop, learning the printing trade in his teens. After attending the University of Kansas and working on the Kansas City Star as an editorial writer, he returned to Emporia and bought the Gazette with a borrowed $3,000.
In 1896, his editorial "What's the Matter with Kansas?" threw him into national prominence. A lampoon of the Populist movement which arose in Kansas, it was used widely in the Republican national campaign of that year.
White was awarded the Pulitzer Prize in 1923 for his editorial "To An Anxious Friend," which defended the right of free speech after White was arrested for defiance of a provision in Gov. Henry Allen's industrial court law.
His autobiography, published posthumously in 1946, also won the Pulitzer Prize.
On one occasion, President Franklin Roosevelt sent White a telegraph at the Gazette informing him that he had followed his advice and appointed Felix Frankfurter to the Supreme Court. President Herbert Hoover once visited the Whites' house in Emporia for dinner.
Life magazine said of White: "He is the small-town boy who made good at home. To the small-town man who envies the glamour of the city, he is living assurance that small-town life may be preferable. To the city man who looks back with nostalgia on a small-town youth, he is a living symbol of small-town simplicity and kindliness and common sense."
Capper was born July 14, 1865, at Garnett. He was a two-term governor and served in the U.S. Senate for 30 years.
Through high school, he was a "printer's devil" on the local newspaper. Following graduation, he obtained a job as typesetter on the Topeka Daily Capital.
During the next nine years, he worked for the Capital as a printer, reporter, and city editor, and spent one year as a reporter for the New York Tribune and as a Washington correspondent for the Capital.
In 1901, Capper bought controlling interest in the Daily Capital, and in 1904 he purchased all outstanding shares in the publication.
At the time of his retirement from the Senate in 1949, he was owner and publisher of newspapers in Kansas, Missouri, Michigan, Ohio and Pennsylvania.
Extremely fond of children, he founded the well-known Capper Foundation for Crippled Children.
Capper died at age 86 on Dec. 19, 1951.
The list of 25 Notable Kansans includes:
1. President Dwight D. Eisenhower.
2. Journalist William Allen White.
3. U.S. Sen. Bob Dole.
4. Nobel Prize winner Jack Kilby.
5. Prohibitionist Carry Nation.
6. Psychiatrist Karl Menninger.
7. Disability advocate, publisher and political leader Arthur Capper.
8. Vice President Charles Curtis.
9. Kiowa chief Satanta.
10. U.S. Sen. Nancy Landon Kassebaum Baker.
11. Gov. Alf Landon.
12. Anti-slavery activist John Brown.
13, 14 and 15. Businessmen Joseph McCoy, Fred Harvey and Cyrus Holliday.
16. Basketball guru James Naismith.
17. The Rev. Charles Sheldon.
18. Automobile magnate Walter Chrysler.
19 and 20. Artists John Steuart Curry and Gordon Parks.
21. Paleontologist George F. Sternberg.
22. Aviation pioneer Clyde Cessna.
23.Public health advocate Samuel Crumbine.
24. Pilot Amelia Earhart.
25. Immigration visionary C.B. Schmidt.
---