Reporters from Star, Capital-Journal recognized by KU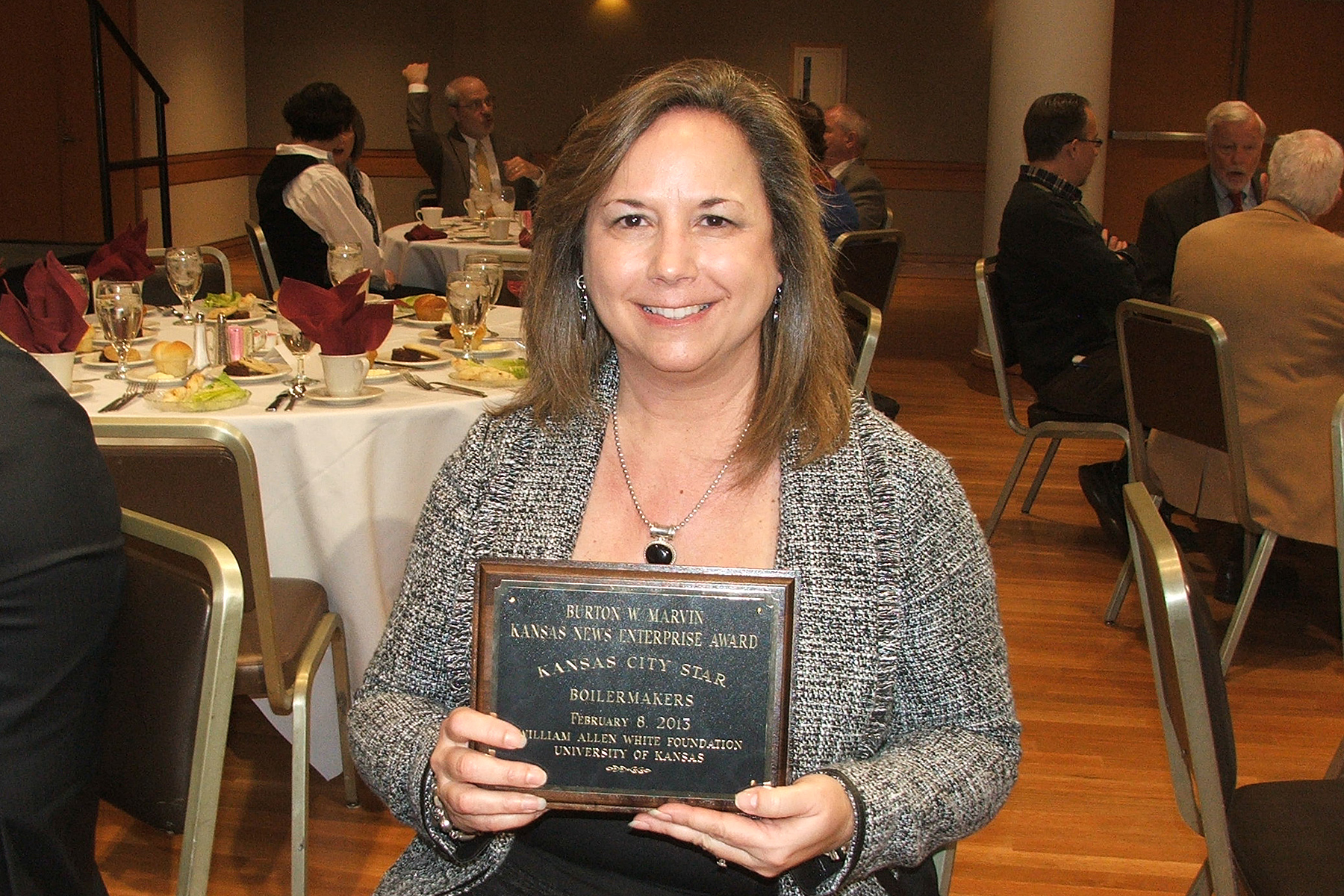 Judy Thomas of the Kansas City Star (top) and Tim Carpenter and Andy Marso (bottom) of the Topeka Capital-Journal were winners of the 2012 Burton W. Marvin Kansas News Enterprise Awards Friday at the University of Kansas.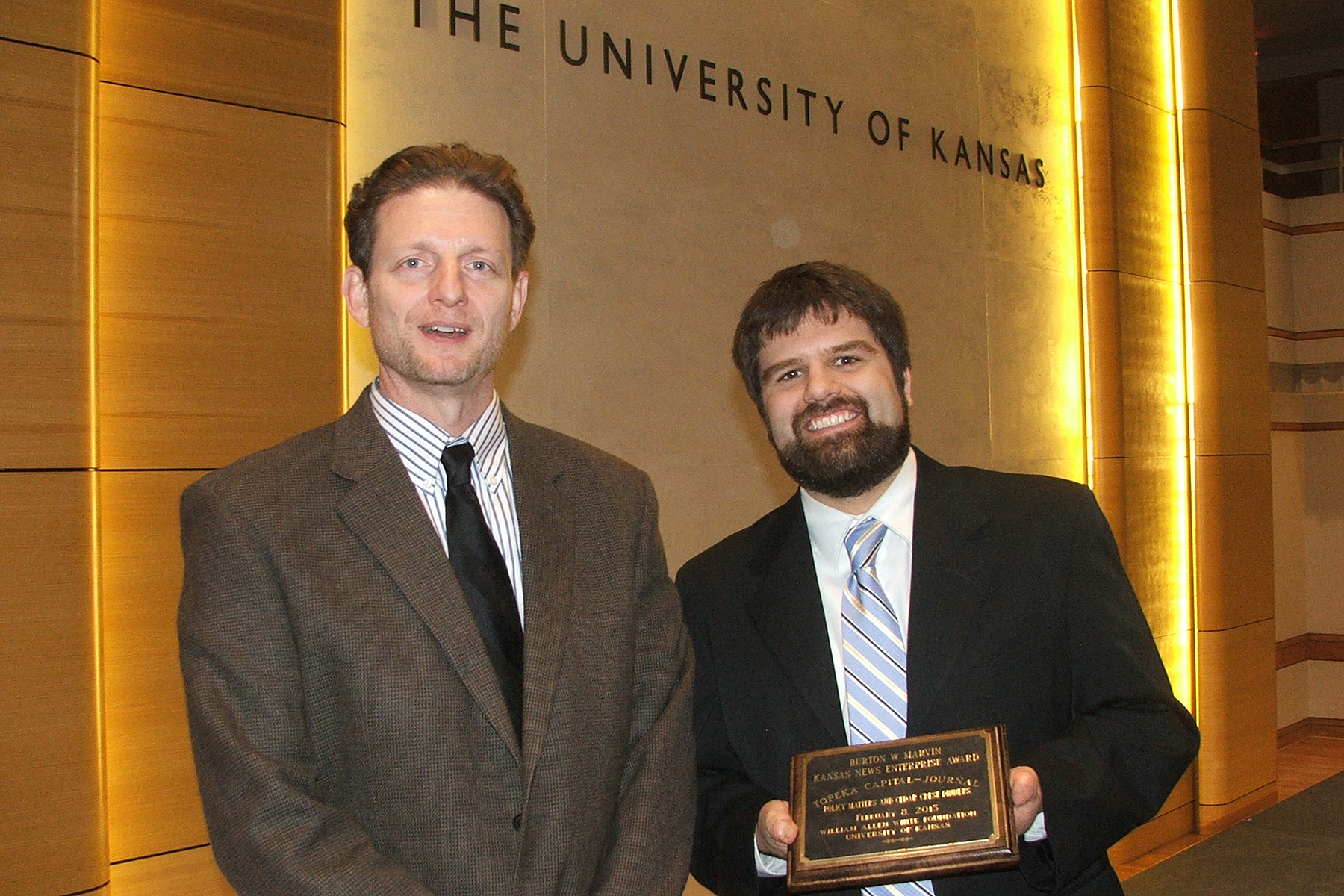 LAWRENCE — The Kansas City Star and the Topeka Capital-Journal are the winners of the 2012 Burton W. Marvin Kansas News Enterprise Award for their articles about conflict of interest and questionable actions by an international union and the Kansas Legislature.

The award, given since 1974 by the William Allen White Foundation, is named in honor of the foundation's first director and a former dean of the University of Kansas School of Journalism & Mass Communications. The award will be presented today, Feb. 8, during William Allen White Day activities at KU.

"The Burton Marvin Kansas News Enterprise Award is given to journalists and news outlets who demonstrate not only quality journalism but a commitment to the communities they serve," said Ann M. Brill, dean of the School of Journalism and Mass Communications.  "This year's winners embody the spirit in which this award was created."

The Star's reporting by Judy L. Thomas showed how leaders of a union based in Kansas City, Kan., gave high-paying jobs to family members, and received million of dollars in pay and perks as union membership declined, and as many members struggled to find work.

"Thomas' articles stood out with their clear focus, insightful analysis of public records, and explanations of the consequences of free-spending and nepotism among leaders of the International Brotherhood of Boilermakers, Iron Ship Builders, Blacksmiths, Forgers and Helpers," the judges said. "The union is hardly a household name, but the actions and decisions of its leaders affect tens of thousands of workers in North America.

Thomas' reporting led to an outpouring of gratitude from union members, who expressed frustration and anger with their leaders, but said they feared the consequences of speaking out.  

The Capital-Journal's reporting by Tim Carpenter and Andy Marso showed how Kansas legislators championed bills that benefited them financially, used their connections to influence government contracts and state policy, and skirted laws on campaign spending and open meetings.

"The Capital-Journal articles stood out in the way they analyzed a complex web of connections between part-time 'citizen legislators' and the bills and laws they write, often in ways that benefit them personally," the judges said. "They parsed dense topics into focused, readable articles that looked behind the scenes of an often opaque legislative process. Their articles exposed connections that citizens might never have known about."

In a different series of reports, Marso looked into legislative dinners at the governor's mansion that appeared to break the state's open meetings law. The reports led to an investigation that determined the meetings were "technical violations" of the law, but the district attorney lacked evidence to prosecute.

 "State legislatures have an enormous impact on the lives of citizens, and the willingness of journalists like Marso and Carpenter to hold legislators accountable deserves recognition," the judges said. "This is public affairs reporting at its best."  

Burton Marvin judges said this year's entries were particularly strong in their exposure of influence-peddling and questionable actions among elected officials and powerful businesses.  All of the entries deserve praise for their dedication to serving the public interest by examining the actions of government, business and influential leaders and organizations.

The School of Journalism observes William Allen White Day annually in February to coincide with White's birthday. This year the White Foundation trustees chose Frank Deford, author and commentator, to receive the citation, presented annually since 1950 to journalists who exemplify the ideals of William Allen White. KU's William Allen White School of Journalism and Mass Communications is named in White's honor. White (1868-1944) was a nationally influential Kansas editor and publisher.
Downloads
---