Four Kansans honored for efforts on open government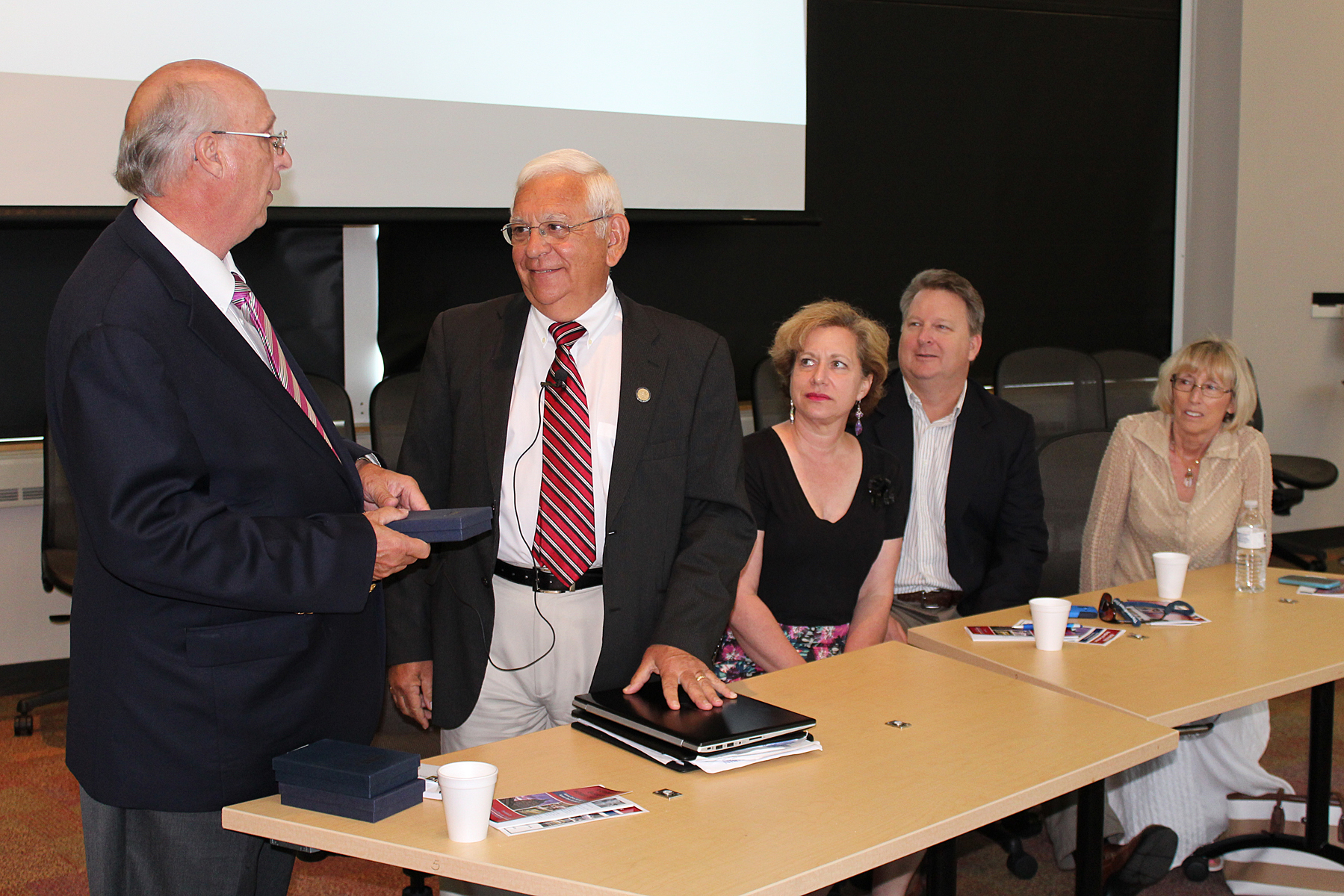 Ron Keefover, left, president of the Kansas Sunshine Coalition for Open Government, honors (left to right) Rep. John Rubin, Adlynn and Robert Harte and Karen Dillon with Friend of Open Government awards Friday in Overland Park.
----------------------------
Kansas Sunshine Coalition for Open Government honored four Johnson County area residents with 2014 Friend of Open Government awards in Overland Park Monday.
The awards were presented at the close of a Kansas Open Records and Kansas Open Meetings Act training co-sponsored by the Kansas Attorney General's Office, the Sunshine Coalition and the Kansas Press Association.
This year's recipients include Rep. John Rubin, Shawnee; Robert and Adlynn Harte, Leawood, and Karen Dillon, a former Kansas City Star reporter and producer for KSHB TV in Kansas City.
The awards were based on the four designees' untiring efforts to open court records for probable cause affidavits supporting arrest and search warrants that a Kansas statute has sealed for 35 years. Thanks in large part to their work, the Legislature enacted a bill unsealing these court records beginning July 1. They had been closed since 1979.
Rep. Rubin was instrumental in authoring and then tirelessly guiding the open records bill through the House and Senate and eventual signing by the governor. Besides drafting the legislation and testifying before the Judiciary Committees of each House, Rubin contacted and met with many of his legislative colleagues to gain its enactment.
The legislation was prompted by a raid at the Hartes' Leawood residence that had been based on an affidavit that erroneously concluded there was probable cause to conduct the early morning search of their home.
After Johnson County law enforcement officers found nothing illegal at their home and admitted the search was improperly carried out, the Hartes spent $25,000 in legal fees and a year of their time trying to learn why they were singled out for the full battle dress drug raid. They followed up by contacting Rubin and Karen Dillon, who at the time was a reporter with the Kansas City Star.
Dillon researched and reported the story for the Star and later for KSHB's Channel 41. Dillon produced an expose on closed records in Kansas that was entitled "Dark State,' for the television station.
The Hartes reported that based on Dillon's news coverage more than anything else, they were finally able to receive a copy of the affidavit that was used for the search of their home. The search was based on the innocent purchase of hydroponic growing supplies for their son's school experiment to grow tomatoes indoors, and a faulty analysis of leaves found in the Hartes' trash, which turned out to be green tea leaves when examined more thoroughly in a laboratory. The Hartes appeared several times before legislative committees to tell their story and urge legislators to open these court records.
Thanks to the work by all four recipients of this year's Friend of Open Government award, the citizens of Kansas will now be able to learn the contents of these previously secret court records.
"This legislation marks a huge change in government transparency of court records. No longer may Kansas citizens be arrested or their homes searched without being able to examine the sworn statements of law enforcement officers that they are based on," said Ron Keefover, president of the Sunshine Coalition, who joined both the Kansas Press Association and the Kansas Association of Broadcasters to support the affidavits bill as their major goal during the 2014 Legislature.
The Sunshine Coalition for Open Government is a statewide organization of journalism and law professors, members of the news media and other private citizens committed to promoting open government in Kansas. Its Board members include the Executive Directors of the Kansas Press Association, Kansas Association of Broadcasters and representatives of the Society of Professional Journalists and the Kansas League of Women Voters, among others. It is housed at the Elliott School of Mass Communication at Wichita State University, where the Coalition was founded in 2000.
Downloads
---