Journalist, mentor Tom Eblen dead at 80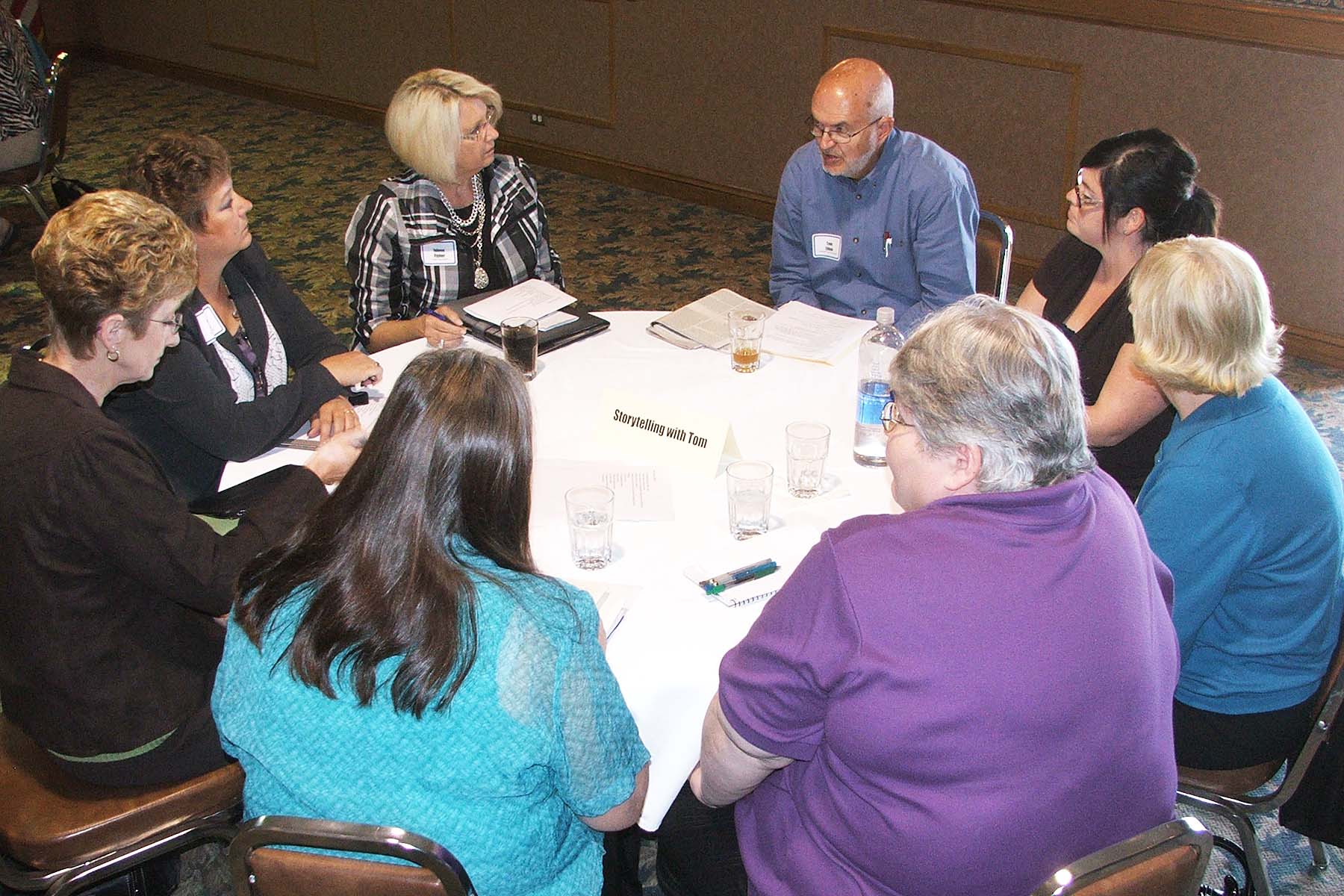 By Julie Adam, William Allen White School of Journalism
Tom Eblen, former general manager and news adviser for The University Daily Kansan at the School of Journalism at KU, died June 10 in Prairie Village. He was 80.
Eblen joined the William Allen White School of Journalism and Mass Communications as the Kansan adviser in 1986 and retired in 2001.
He was born in St. Joseph, Mo., on Nov. 1, 1936. His interest in journalism started while taking photos for his high school newspaper. One of his photos won a state prize when he was a senior in high school and that led him to the journalism program at the University of Missouri, from which he graduated in 1958.
Early in his career, he worked at newspapers in Columbia, Mo., and Amarillo before joining The Kansas City Star in 1960. He worked his way through the ranks as a reporter, copy editor, assistant city editor, city editor and managing editor. In 1979, he was managing editor for both The Star and The Kansas City Times.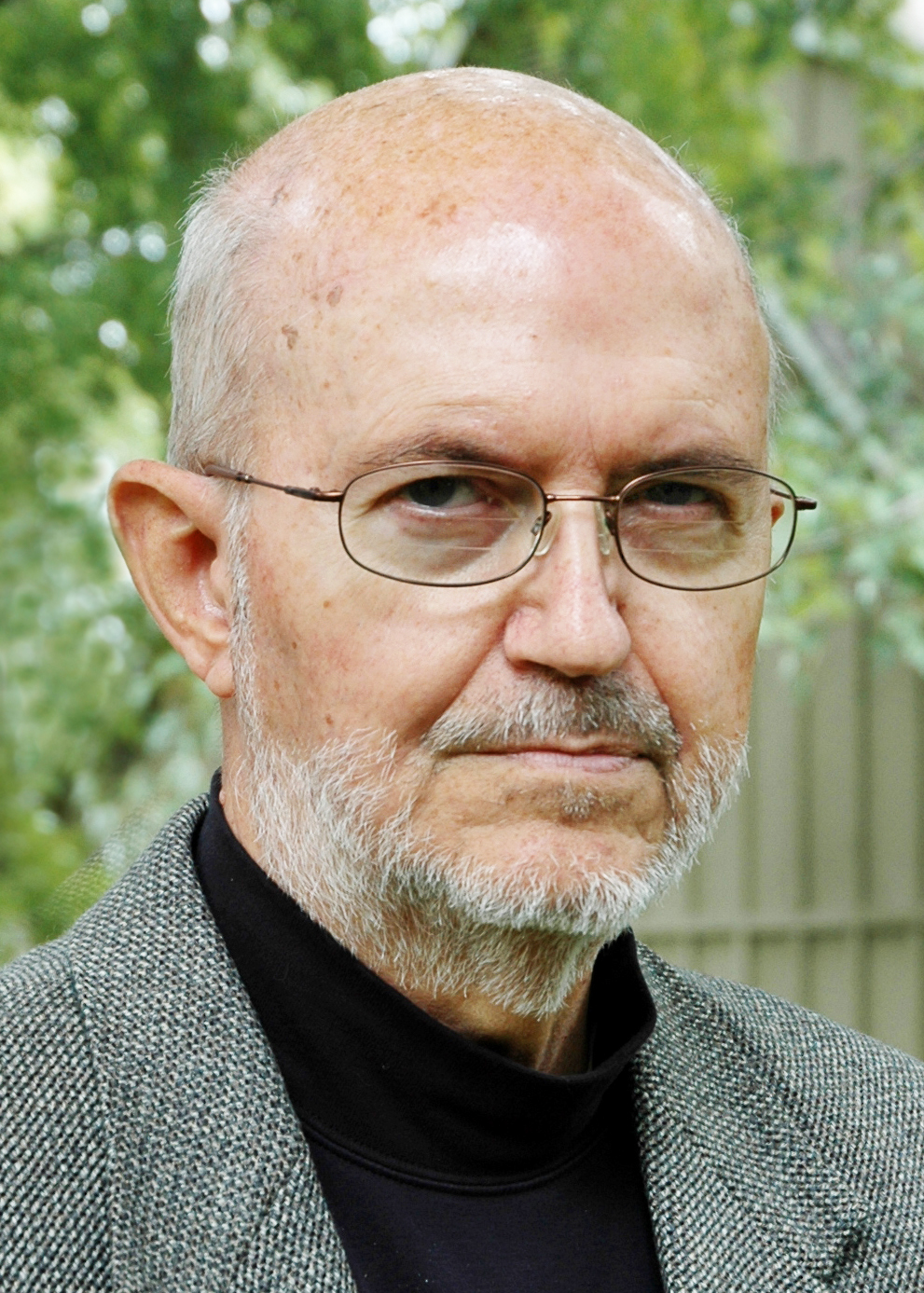 In 1979-80, he taught at KU as the Gannett Foundation professional in residence but left with plans to buy his own newspaper. However, he put that dream aside to work for the Fort Scott Tribune as editor and general manager until he joined the J-School in 1986 as the Kansan adviser.
Eblen, who also taught Advanced Reporting and Advanced Editing, always had an open-door policy and would make time to talk to a student about classes or the Kansan or life in general.
Jon Schlitt, 2001 J-School graduate who is now sales and marketing adviser for the Kansan, worked with Eblen as a student on the Kansan.
"Tom Eblen's legacy with The University Daily Kansan is undeniable," Schlitt said. "It's evident in the multiple awards won under his tenure that are still displayed on the walls of the Kansan. It's also shown in the generation of students that he inspired and taught and who have now gone on to be giants in the field of journalism. We will mourn his passing but be grateful that he was able to teach and influence so many in his time here."
Dean Ann M. Brill said Eblen was admired and respected in the school and in the journalism community.
"Tom was our colleague, mentor and friend," Brill said. "We counted on his honest opinion, his wit and expertise to guide generations of students. We will miss him.  Our sympathy to his wife, Jeannie, and the rest of his family."
Eblen's former Kansan students fondly recall his critiques of each edition of the Kansan, always in red pen. In an interview with J-School Professor Calder Pickett in 2002, Eblen said he never missed a critique in his 15½ years as general manager.
 "The critiques were posted on the wall, and all the students read it," Eblen said. "They read not only their own stories and the headlines but what other people did because they could learn a lot from what everyone had done on the paper that day."
In 2015, Joel Zeff, 1990 J-School graduate, established a School of Journalism scholarship in Eblen's honor. The Tom Eblen In Honor of the Glorious Red Pen Scholarship is awarded annually to a student studying news and information. Zeff wanted to recognize Eblen's dedication to students and "his never-ending supply of red pens."
"Tom was more than a professor and mentor," Zeff said. "He was our friend. He would push us to be better reporters and editors. He would correct us. He would tell us jokes. He would also be the first to applaud and champion us to every editor he knew. I always thought I was lucky that Tom took such an interest in me as a student, and later, in my career. I soon realized every student who walked into his office was lucky. They don't make professors like Tom anymore."
J-School Professor Susanne Shaw, whom Eblen succeeded as Kansan adviser in 1986, said his extensive connections to Kansas newspapers were an invaluable resource for the school and its students.
"Tom was a wonderful mentor to students during his time as Kansan general manager," Shaw said. "His many professional contacts helped students get internships and full-time jobs."
Traci Carl, 1995 J-School graduate and currently international operations director for The Associated Press, said Eblen helped shape the careers of many young journalists.
"I often stuck my head in his office on my way in each morning, either to say hi or seek his advice about a story," Carl said. "Tom helped me figure out I wanted to work for the AP and got me the interview that would launch my career."    
Paul Stevens, who retired as Associated Press Central Region vice president in 2003, met Eblen when Stevens became the AP Kansas City bureau chief in 1984 and Eblen was editor and general manager of the Fort Scott Tribune. Stevens said he considered Eblen and his wife, Jeannie, the "First Family of Kansas newspapering."
"Whatever the event − a happy occasion like a retirement or anniversary, a sad one like a death or someone in ill health − you could count on seeing the two of them there to support their friends," Stevens said. "Come rain or shine or snow or ice."
After Eblen retired from KU, he served as the news consultant for the Kansas Press Association for almost two decades. He worked with dozens of newspapers through the years, conducting "Community Newspaper Tuneups," according to Doug Anstaett, KPA executive director.
"Everyone who worked with Tom said while he was tough and thorough in his critique of their newspaper, he always took a gentle approach, and no one left those sessions feeling anything but appreciation for his advice," Anstaett said. "For me as KPA executive director, Tom was a respected sounding board. He had a vast knowledge of the Kansas newspaper scene and provided me a backstop when I encountered a difficult situation. He would listen, ponder and then offer solid advice about how to proceed."
Eblen dedicated hundreds of hours of research to his book, "Kansas Press Association: 140 years of Kansas newspapers and newspaper families," about the history of the Kansas Press Association and the state's multigenerational newspaper families. Anstaett said it remains a go-to resource on the great publishing families in Kansas and the events that shaped the KPA.
Eblen was elected KPA president in 1988 and was twice elected to the national board of the Associated Press of Managing Editors. He was editor of APME News in 1978 and 1979.
He was a trustee and former board chair of the William Allen White Foundation and past president of the William Allen White Community Partnership.
In 2007, he won the Clyde M. Reed Jr. Master Editor Award, which recognizes a lifetime of achievement in Kansas journalism. In 2010, he was named to the Kansas Newspaper Hall of Fame. Go here to see that story.
Survivors include his wife, Jeannie Kygar Eblen; two children, Matt Eblen and Courtney Eblen McCain and husband, Ken McCain; and two grandchildren, all of Overland Park, Kansas. Services are pending.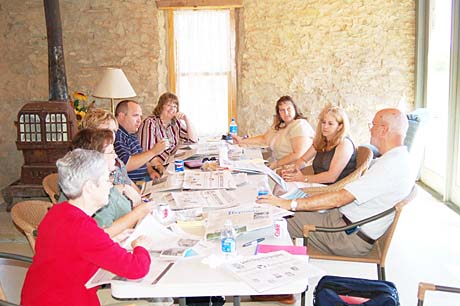 (Pictures) Top of page: Tom Eblen doing what he does best: providing writing tips at a past Western Kansas Mini-Convention; middle: Eblen conducting a Community Newspaper Tuneup for the Taylor Family Newspapers; bottom: Jeannie Eblen displays the Kansas Press Association's official "Real News Is Our Business" T-shirt for this year's convention while both she and Tom recuperated earlier this year at a Lawrence rehab facility.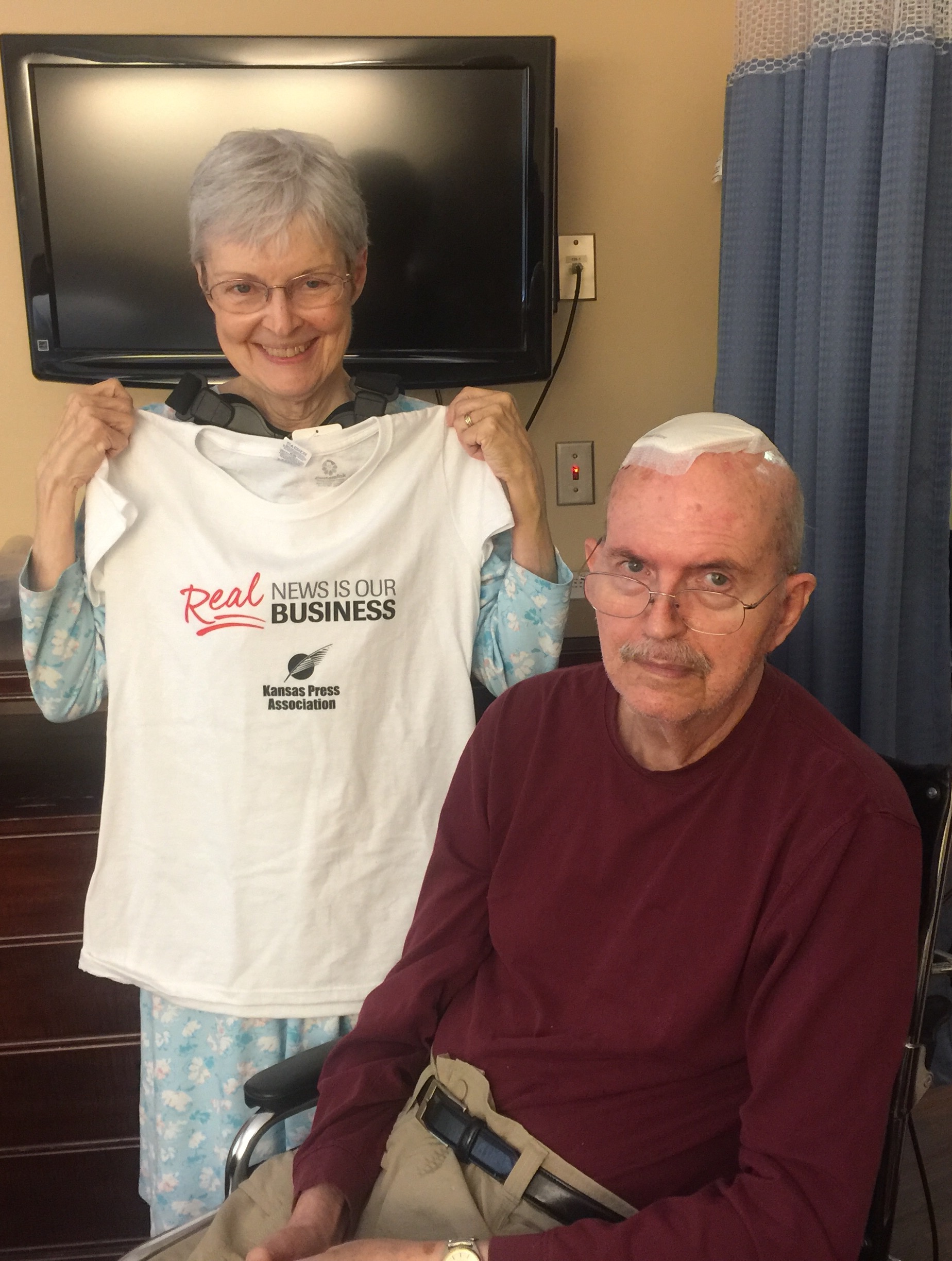 ---