Hall of Famer Seaton remembered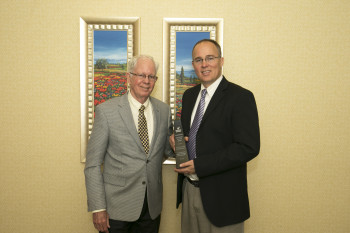 By the CourierTraveler staff
Long-time Winfield Courier publisher and newspaper owner Dave Seaton is being remembered as a bold journalist, dedicated community leader and devoted family man.
Seaton, 80, died Saturday at William Newton Hospital. His health had been failing and he underwent major heart surgery a year ago, but his death was unexpected.
Dave had just purchased plane tickets that day so he and his wife, Callie, could fly to Maine for their annual summer vacation. And he had written Saturday's editorial in the CourierTraveler about the coronavirus.
"My mom, my two sisters and I are truly heartbroken at losing such a supportive and loving husband, father and grandfather," his son David Allen Seaton said. "He was our anchor is so many ways."
You can read his obituary here.
The family plans a small graveside service at Highland Cemetery with a larger memorial service to be announced later.
A family business
Dave was the editor and publisher of the Winfield Courier for 29 years, 1978-2009, and remained active as chairman of Winfield Publishing Company until his death.
During his tenure, the company expanded by acquiring the Newark Herald Journal and the Arkansas City Traveler. Dave also helped oversee the merger of the Courier and Traveler in 2016.
The Seaton family has been in the newspaper business for four generations, but Dave did a variety of other work before he came to the Courier.
Dave graduated from high school in Coffeyville, and earned degrees at Harvard University and the Columbia University School of International and Public Affairs. He and Callie served in the Peace Corps for two years in Brazil building neighborhood schools.
Dave also worked for U.S. Senator Jim Pearson, a Republican from Kansas, in Washington, D.C., and later set up a business in selling farm equipment to Latin America, based in Neodesha, Kan.
Members of the Seaton family acquired the Courier in the 1940s, so Dave's name was already attached to it when he arrived in Winfield in 1978 to join his family's business.
Marsha Wesseler, director of marketing and sales at the CourierTraveler, worked at the Courier in advertising several years before Dave arrived.
"Dave was very much a news guy," Wesseler said. "But I remember the first day he walked into the office. He was handsome, with distinguished, premature greying hair, and soft spoken. I grew to respect him very much over the years. He and Lloyd Craig were my mentors, and I value the time I spent working with both of them at the paper."
A bold advocate
Over Dave's career he earned a reputation as an editor devoted to the communities the newspaper served.
"He cared about the towns and county, the current events and the history," said Bob Hartley, a retired newspaper man and Cowley County historian. "It is not enough to say we will miss Dave Seaton. We will miss his humanity. His caring for community. His clear, crisp writing. And above all, his presence."
Hartley and Dave were among the organizers of the yearly Celebrate Winfield history conference that has morphed into Celebrate Cowley County, held the last Saturday in January.
Buzz Merritt, former long-time editor of the Wichita Eagle, said Dave Seaton was what every town in America needs.
"An editor of a local newspaper who has the necessary journalistic tools and instincts — including the hammers-and-nails parts — to produce an honest picture of the town's strengths and weaknesses, but who combines those with the carriage, character, kindness, education and intelligence of a renaissance gentleman," Merritt said. "Such people are rare."
Dave took on many topics that affected the community in his editorials and in news writing. He supported campaign finance reform, public education, historic preservation and moderation in the Kansas Republican Party.
He worked against closing the Winfield State Hospital and Training Center, and fiercely advocated intervention to stop the war in Bosnia.
Some right-wing Republicans were sure he was a Democrat, and some left-wing Democrats were sure he was right-wing Republican, showing the editorials often hit the middle ground where Dave thrived.
Community leader
He was a long-time supporter of the Walnut Valley Festival, the Winfield Main Street program, local and state history groups, the development of Creative Community Living in the wake of the closing of Winfield state hospital, and the Martin Luther King Jr. Task Force and its yearly celebration.
Susan Lynn, editor and publisher of the Iola Register, said her connection to the Seatons began in journalism but was fostered by a decade of annual trips to the music festival, where she and her husband "camped out" on the Seaton's living room floor.
"In truth, the festival was our excuse to be their guests," Lynn said. "The standard fare was politics, late into the evening and then again over long breakfasts. We could never get enough."
Seaton was a champion for journalistic integrity and a cheerleader for everything Kansas, Lynn added.
"I put Dave on a pedestal alongside my father, Emerson Lynn, longtime publisher of The Iola Register," she said. "That they were steadfast friends was testimony to their character. Both believed their newspapers could best serve the public by never shying from the truth."
Doug Anstaett, former executive director of the Kansas Press Association, said Dave was foremost a journalist.
"He took his position as a community leader seriously, and always stood out as one of the top editorial writers in Kansas."
Anstaett also praised Dave's leadership of a project that led to a documentary on the life of William Allen White, world famous author of the Emporia Gazette.
His son, David Allen, took over as president of Winfield Publishing Company several years ago. He said he learned many things from his father, but most important are values like patience, kindness, leadership, community service and dedication to family and friends.
Dave could be intense about his journalism and the success of Winfield Publishing.
"He could be demanding," his son said. "But he also tried to operate Winfield Publishing Company as a family, and he believed in second chances."
Like others, David Allen described his dad as a giant in community journalism in Kansas.
"He advocated for things he believed in and tirelessly supported the community around him," his son said. "The number of boards and volunteer groups he participated in or led, both locally and statewide, seems Herculean."
Dave Nichols, historian of President Dwight Eisenhower and former academic dean at Southwestern College, was a long-time friend of Dave's.
Nichols and Hartley would meet Tuesdays at College Hill Coffee for lunch with Dave. Nichols called it the highlight of his week.
"There we would pretend we had the wisdom to solve the problems of the town, the state, and the world," he said.
Both of them writers on historical figures, Nichols on Eisenhower and Dave on Sen. James Pearson, they "assisted each other and had lively political discussions," Nichols said.
Dave's uncle Fred Seaton turned out to be the hero in Nichols' latest book on Eisenhower and Sen. Joseph McCarthy, Nichols said.
He particularly admired Dave's editorial writing and "unapologetically copied his style for the conclusions of key chapters."
Dave was worthy of praise to the end of his career, Nichols added, noting that Seaton wrote the April 18 editorial in the CourierTraveler warning of a hasty end to restrictions due to the coronavirus.
"The man was that good, right down to the end," Nichols said.
---