9-year-old loves printed newspapers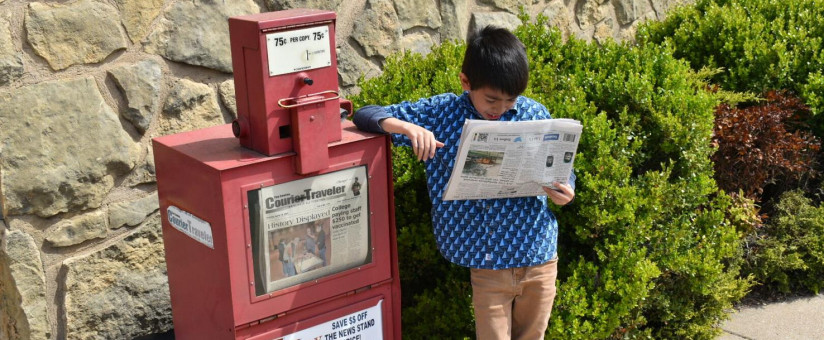 By John Shelman, Cowley CourierTraveler
For some young students, getting online with friends or watching a TV program after school marks the high point of their day. But 9-year-old Marco Lozano of Arkansas City would rather sit down and read the newspaper.
"I like to see what's on the local news and the national news," he said. "I like reading because reading is the key to knowledge."
Marco said he tries to read as many different newspapers as possible. He likes to get copies of The Wichita Eagle, The Newkirk Herald Journal and The Ponca City News.
"I don't read them every day," he said. "I kind of like the CourierTraveler best."
He also likes to discuss the articles with his father, especially when he doesn't understand the meaning of a word. But he never holds discussions with his friends.
"They're not interested," he said.
His interest in reading comes naturally enough. His mother Rinny works at the Arkansas City Public Library. Marco, a fourth-grader, spends his days at the library and attends school by remote learning.
She said when his schoolwork is finished or when he has free time, he will check out a library book or read a book online. But when it comes to the newspaper, he wants a printed copy.
Rinny said her son insists that he will never read a newspaper online. She said he is always asking his older brother to explain why he prefers to read the news from his phone, and tries to convince him that paper copies are better.
"Don't you want to smell the newspaper smell?" he asks. "It smells so good, and it's not burning your eyes looking at that screen."
Marco said it would be sad if newspapers stopped printing and went to online publishing.
"I don't like that, I just like paper," he said. "Sometimes a word on a paper just makes me feel so good."
Rinny said her son is completely obsessed with the newspaper. He wants to work at the CourierTraveler when he grows up. He has high ambitions.
"I want to be a newspaper publisher," he said. "I'll probably never lose loving newspapers."
He has already made a good start. During the interview for this story, he was so full of questions that it was hard to tell who was the reporter.
"Who takes the photos at Newkirk? Do we do it or does someone else do it?" he asked. "How long have you worked at the Traveler? What does that machine do?"
Marco also wanted to know about the duties of each individual at the newspaper. As he toured the pressroom, mailroom, plate room and composition room in the Arkansas City office, he had even more questions.
Marco is also fascinated with vending machines, especially those that dispense newspapers. His mother said that when the family takes a trip and he sees a newspaper vending machine, he will be asking for quarters.
Rinny said the family used to subscribe to the paper, but Marco prefers to get the paper each day from a vending machine.
"I like how you put the money in. I like how the door opens," he said. "I always study it."
Rinny said her son is interested in all sorts of vending machines and is constantly watching YouTube videos to see how they work.
"He's very smart, my little man," she said with a laugh. "He is an interesting guy."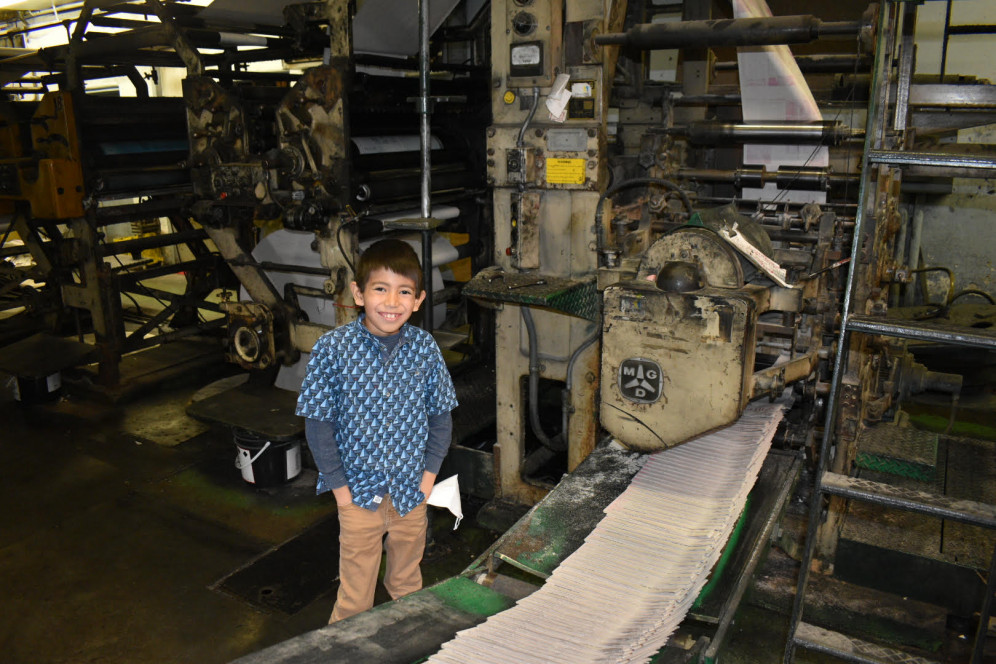 ---