Couple sells six Nor'West newspapers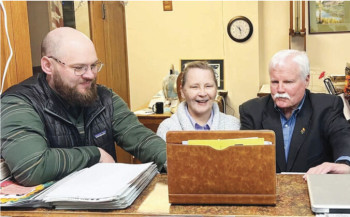 Steve and Cynthia Haynes surprised their staff at The Oberlin Herald and across northwest Kansas last Friday morning with an announcement that they were retiring from the newspaper business, effective immediately.
The six newspapers that make up Nor'West Newspapers have been sold to two brothers from Washington and Montana, Jesse and Lloyd Mullen of Mullen Newspapers. They include the Colby Free Press, Goodland Star-News, Oberlin Herald, Norton Telegram, St. Francis Herald/Bird City Times and the Rawlins County Square Deal.
The brothers said they were born into a newspaper family in Wyoming, and have since purchased and run several newspapers across the western and northwestern U.S.
A new publisher was introduced, Frank Perea, who has edited and published newspapers in many areas around the United States, with subscriber numbers from the low 1,000s to the 100,000 range. Perea currently lives in Holyoke, Colo., but said he will move to northwest Kansas early in the new year. The Hayneses have been in the newspaper business for over 40 years, and since both of them are 74, they hope to retire and spend more time with their family.
"We may do more traveling now," Steve Haynes said, "but who knows?"
"We'll continue to be around, and we'll help out from time to time," Cynthia Haynes said.
It has been more than 29 years since the couple moved to Oberlin in 1993, during one of the area's wettest summers on record. Now, they are retiring during one of the driest years on record.
Perea told employees gathered for a group Zoom meeting Friday morning that he wants to see all the newspapers in the group flourish and prosper.
"We will accentuate the positive in each town and each paper," Perea said. "The newspapers belong to each town, and every editor and publisher is a steward and caretaker of that town's history. We are the diary keepers of the towns."
(Pictured are Jesse Mullen and Cynthia and Steve Haynes)
---