Work keeps Peschka's mind 'alert'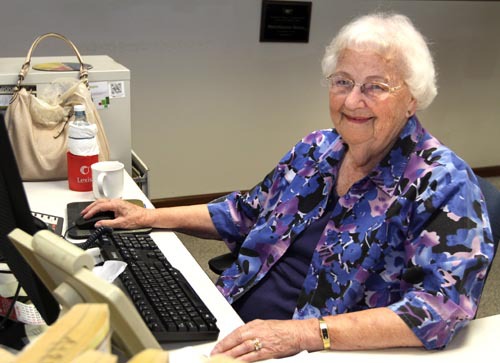 Pat Peschka has no plans to retire any time soon.
Never one to sit idle, she has spent 82 percent of her almost 90 years working at a variety of jobs. She has learned the secret of longevity.
"Work keeps my mind alert," said Pat, who spends two and a half days a week at the Lifestyles desk at The Hutchinson News, handling Western Front letters and typing church notes as well as wedding announcements, anniversaries and birthday celebrations.
"I should be rich, as long as I have worked," Pat joked. But she knows she is blessed to be relatively healthy and strong and able to be in the workplace several days a week.
Growing up in Ellinwood during the Great Depression, she learned quickly the importance of a job.
"I learned how to scrimp and make do," said Pat.
By the time she was 16 she landed her first job, working for an optometrist. After graduating from high school in 1941, she bypassed college and went straight to work.
"I worked for relatives at their jewelry store," she said. "That taught me never to work for relatives. It's the only job I was ever fired from."
But she wasn't idle for long. Another job was waiting for her in the credit department of Montgomery Ward in Great Bend. She worked her way up to manager.
"I have always been lucky getting jobs," she said. "I really have."
During World War II, she worked at the Great Bend post office by day and danced with the soldiers at the USO by night.
Once the war was over, the soldiers returned to their jobs and Pat moved on to a new position in a real estate office.
"See how lucky I was?" she said.
By 1948 she married Bruno Peschka, who had returned from the war. He died in 1987. The couple had two children, Gale Miller and Doug Peschka, three grandchildren and six great-grandchildren.
In the Peschka family, laughter was always the best medicine.
"Someone lost a job or was sick, no matter what happened, we could find something to laugh at every day," said Gale Miller.
After Bruno's death, Pat went to Manpower in search of employment. They sent her out on temporary jobs, and some days she was needed at The Hutchinson News. It turned into full-time employment.
"We joke that Pat runs the newsroom," Managing Editor Mary Rintoul said. "Actually, that's not far from the truth. I've never seen anyone produce as much copy as Pat, from Celebrations to Western Front letters. She is amazing."
Meanwhile, Pat says she couldn't ask for a better place to work.
"I like the people and the variety of work," Pat said. While she can relate to those coming in with their 80th and 90th birthday announcements, she has no problem working with younger people.
"They keep me going," she said.
So does her family, including her three grandchildren and great-grandchildren.
Before granddaughter Ashley Hoskinson chose her husband, he had to meet with Pat's approval. That was Ashley's requirement.
"We are the exact same person," Hoskinson said of her grandmother. "She is so easy to turn to; she is my 1-800-Call-Grandma."
Hoskinson's friends marvel that she has a grandmother who is going to be 90 on Saturday and still works and goes to church.
"She is a very strong woman. Nothing stops her," Hoskinson said.
Aaron Breitenbach, of Wichita, isn't surprised that his grandmother still works.
"She wants to be productive. It comes from growing up in the Depression," Breitenbach said. "If she couldn't work, she would lose her fire for living."
Granddaughter Jenny Miller has friends whose grandparents are years younger than Pat and are already retired, living sedentary lifestyles, and suffering from major health problems.
"She is the strongest spirit I have ever encountered," Miller said.
Not that Pat is in perfect health. There have been bouts with clogged arteries and pneumonia. This past July she was hospitalized and off work for about a month.
"I sure missed being here," she said. "I made myself move to get stronger."
"She refused to quit," Miller said. "She didn't let it slow her down."
She was motivated to get back to her job.
"I don't think about quitting," she said. "They'll keep me as long as I don't stumble or drool."
Downloads
---